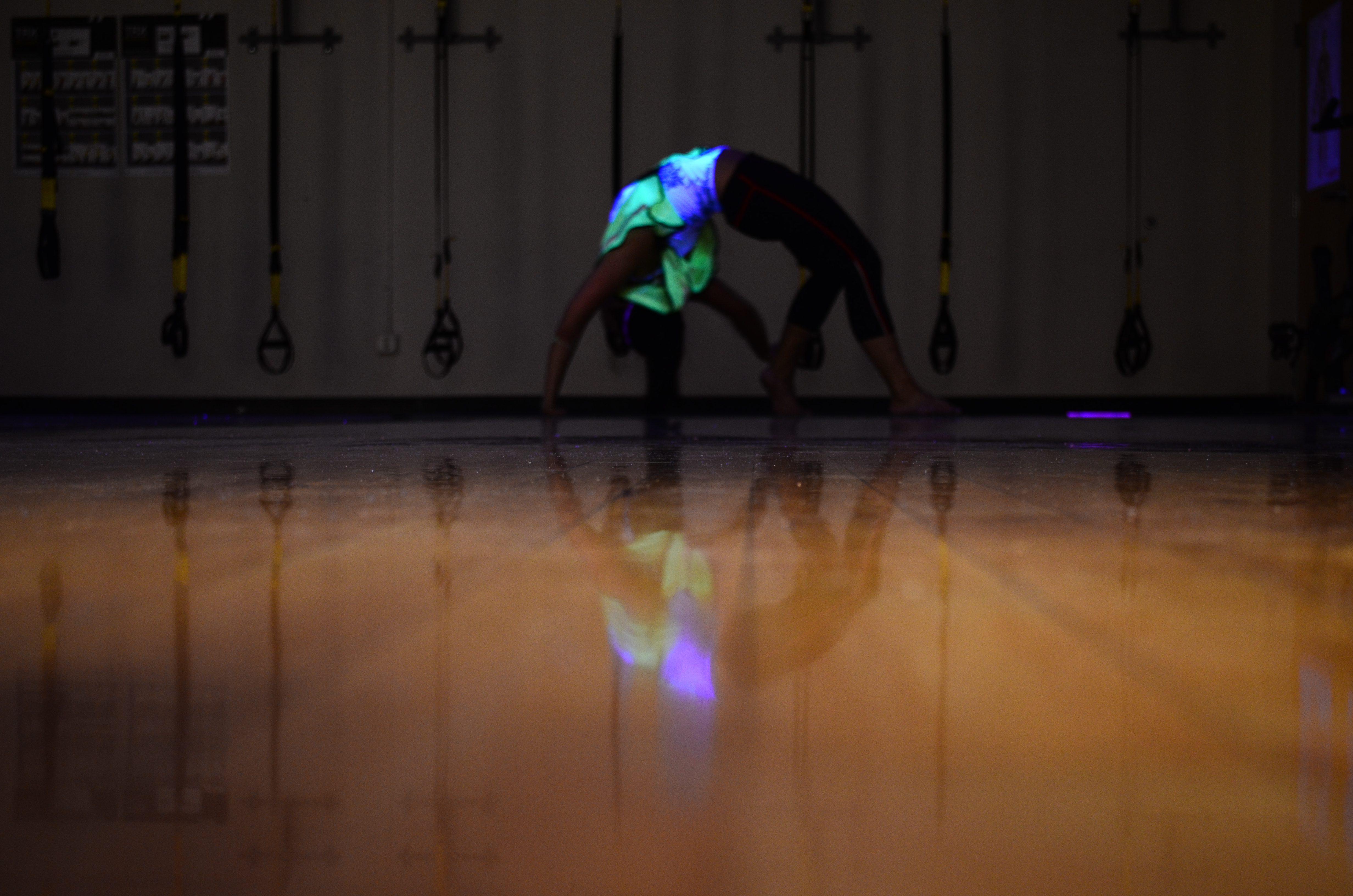 Your muscles are starting to feel like Jello. Your own labored breathing is the loudest thing you can hear, next to the pulsing music. And then you look up and see the fitness instructor at the front of the class, still grinning and calling out motivation, barely breaking a sweat as you force yourself to do one more rep.
This scene replays itself countless times within the group fitness classes at the Campus Recreation Center. The Rec Center offers classes in body pump, spinning, yoga, Zumba, pilates, body combat, and more — and each one of those classes is taught by a fitness instructor. Who these instructors are and their motivation for teaching varies, but it all comes down to loving fun and fitness.
Many fitness instructors already focused on working out in a great part of their lives before college. Courtney Duckworth '15, whose majors are kinesiology and health sciences with a concentration in premed, was a competitive figure skater. Meanwhile, Rory Siegel '15, a kinesiology and Hispanic studies major, implemented a strict weightlifting schedule with a friend. Upon entering college, they needed to find a brand new way to work out.
"My first semester at college was the first time since I started skating that I had to find other ways to keep fit," Zumba and Pilates instructor Duckworth said. "I knew that running and using the machines at the gym wouldn't allow me to have the fun social aspect and feeling of escape that skating provided."
With a friend, Duckworth tried out a Zumba class and loved it. Many other instructors also started out their careers by attending classes at the Rec, and enjoying it so much that they went back for more. Siegel was looking for a new "buddy" he could lift weights with when he happened across a Body Pump class. He now teaches Body Pump and Zumba.
"I was walking by and heard music I liked," Siegel said. "I started doing Body Pump every Tuesday and Thursday and became friends with the instructors."
These friendships kindled Siegel's interest in also being an instructor. Applying to be an instructor involves not only an application but also an interview and an audition. When an applicant is accepted, he or she goes through a training period of giving classes in conjunction with another instructor, and then eventually gives classes solo.
Aside from giving classes several times per week, instructors also train on their own in a variety of ways. To biology major Andrew Koons '15, the spinning and Body Pump classes he gives are sometimes workouts tailored to his triathlon training.
"I give three classes a week and sometimes sub for other instructors," Koons said. "Finding time to fit in my triathlon workouts can be hard, so I have to be efficient … Sometimes a spinning class can take care of a workout I need."
Neuroscience major Emily Bainwol '14 augments her Body Pump and Body Combat classes with long runs.
"I am currently training for my first full marathon. Nothing beats group fitness, but sometimes it's nice to take time to myself to run," Bainwol said. "It also allows me to create new personal goals that are different from goals I strive for within Campus Rec."
To be a fitness instructor, it is a given that you have to love fitness. But that is not all that makes this job special. Duckworth said that the best part for her is seeing others succeed.
"There is no better feeling than seeing participants progress at skills they had previously struggled with," Duckworth said. "The biggest reward is seeing smiles and confidence at the end of class that you didn't see at the beginning."
For Siegel, teaching a fitness class is foremost a group experience because everyone works toward the common goal of getting more fit.
"I love having classes that scream with me and get really into it," Siegel said. "We're all working together and we'll finish together. Everyone feels like a part of it."
As in any job, occasionally these instructors run into unexpected difficulties. Bainwol noted that the greatest difficulty for her is turning patrons away. Popular classes often fill up so quickly that not everyone who shows up can participate. On the other hand, Koons said that being a fitness instructor allows people to see him as more than just someone who gives out workouts.
"You're put in the spotlight as a role model, both in classes and outside of classes," Koons said.
When a fitness instructor encounters these difficulties, they must bear them with grace while continuing to dance, bike, or repeat a move to the beat of a pop song.
In other instances, the weird or unpredictable occurs. Bainwol described an incident that happened while doing jump squats during a Body Pump class.
"I decided not to wear the microphone belt that day but instead tucked it into the side of my pants, (and) it went flying across the room when the jump squats commenced," Bainwol said. "Many of the participants froze mid-track, and I just yelled, 'Keep jump squatting!'"
As a job, as a workout and as an opportunity to share fun, healthy, and lifelong habits with others, being a fitness instructor rewards everyone who does it.
"I am so passionate about this. I'll be doing it for the rest of my life," Siegel said. "When my kids are in high school, I'll be taking them to Body Pump."