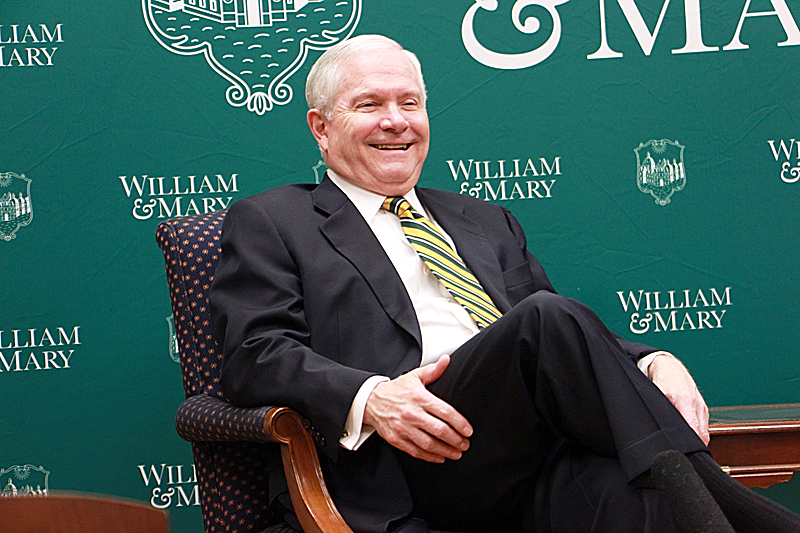 The College of William and Mary announced Thursday former U.S. Secretary of Defense and Chancellor Robert Gates '65 and his wife Rebecca have committed to giving approximately $1.5 million to the College, including a $1.45 million bequest to support student scholarships. Gates will also donate his personal papers, and the remaining $50,000 will go toward their cataloging and digitization.
William and Mary News reported that much of the Gates' monetary gift will go toward attracting and aiding international relations and global studies undergraduates of high academic caliber. The bequest is in support of the Robert M. and Rebecca W. Gates Scholarship, a merit-based scholarship for international relations and global studies undergraduates. Three Gates scholarships have been awarded so far.
"It means the world to us," Steve Hanson, vice provost for international affairs and director of the Wendy and Emery Reves Center for International Studies, said. "We are so completely honored to have this support from Chancellor Gates for our study abroad programs and international opportunities."
In addition to the gift from the Gates' estate, Gates' personal papers will be kept in the Special Collections Research Center at Earl Gregg Swem Library. The papers, which cover his time in the CIA, his work on the National Security Council and his term as Secretary of Defense, include Gates' notes, photographs and other materials.
Once the papers go through a cataloging process, they will be available to researchers.
"My experience as an undergraduate at William & Mary had a great influence on my life, just as the College has had a great influence in shaping our country; its long history is intricately interwoven in the fabric of this nation," Gates said in a press release. "I cannot imagine a better place for my personal papers than the university's Special Collections Research Center."
College President Taylor Reveley expressed his gratitude for the donations.
"[Gates'] alma mater is thrilled to receive his personal papers and extremely grateful for his marvelous support of our students," Reveley said in a press release. "A commitment of this magnitude from William & Mary's chancellor is especially compelling."
Gates, the College's 24th Chancellor, has held the position since 2012 and served as the Charter Day speaker in 2012 and 2013.