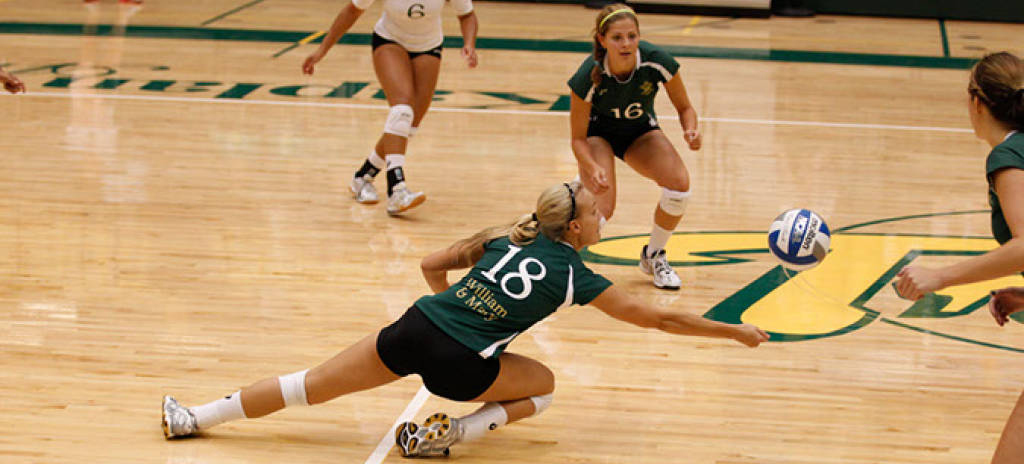 This past weekend, William and Mary won two closely contended games against Towson and Delaware, improving their overall record to 9-17, and their Colonial Athletic Association record to 4-5. 
The Tribe played Towson Friday, hitting .267 against them as a team. Dessi Koleva and freshman Michelle Heath provided the team offensive assistance, contributing a .480 and a .378 attack percentage, respectively.
The Tribe excelled defensively as well, with junior Monika Stanciauskas notching five blocks, sophomore Carolyn Albright notching three and senior Celine Alasomuka contributing 21 digs. After a shaky first two sets, the Tribe came out strong in the third, fourth and fifth sets, the fourth having a lengthy 22 tied scores until the Tribe finally sealed the set. The College finished with a 3-1 victory versus Towson.
On Saturday, they moved on to play Delaware. The last time the Tribe played the Blue Hens, the Tribe lost in a fifth set heartbreaker, so it was determined to gain revenge. Head coach Melissa Aldrich Shelton said they started tentatively but gained confidence as the game went on.
"We came out really scared for some reason, and we barely played at all," Shelton said. "We just let them take it to us and didn't fight back. After the first set, we went out with the exact same lineup and were more mentally tough."
The Tribe defense outperformed the Blue Hens, with 100 digs and 11 blocks. Koleva, Alasomuka and Heath all provided more than 20 digs. This was a particularly significant game for Albright, since she led everyone with seven blocks and passed the 100 mark overall for this season. Stephanie Paul and Gabrielle Pe, both freshmen setters, also shone, each having 19 assists.
Because of her team's perseverance in both of the weekend's games, Shelton only had good things to say.
"Everyone's blood pressure was really high during those games, but our team has proven to be tough at those times," Shelton said. "This is the first weekend where we were able to play a match as close as those two were and win the fifth set."
Shelton also credits the improvements to the changes the team has recently made in the lineup, switching it from a 5-1 lineup with Paige Lucas as the primary setter to a 6-2 lineup with Paul and Pe as the setters.
"It helped our offense a lot by always having three hitters at the net, taking pressure off of both our setters and our hitters," Shelton said.
Sophomore Carolyn Albright was awarded the CAA Defensive Player of the Year for her performances over the weekend.
After this weekend, the Tribe rose to fourth in the league with five matches left, all against other top-four teams. The College will host Northeastern Friday at Kaplan Arena.