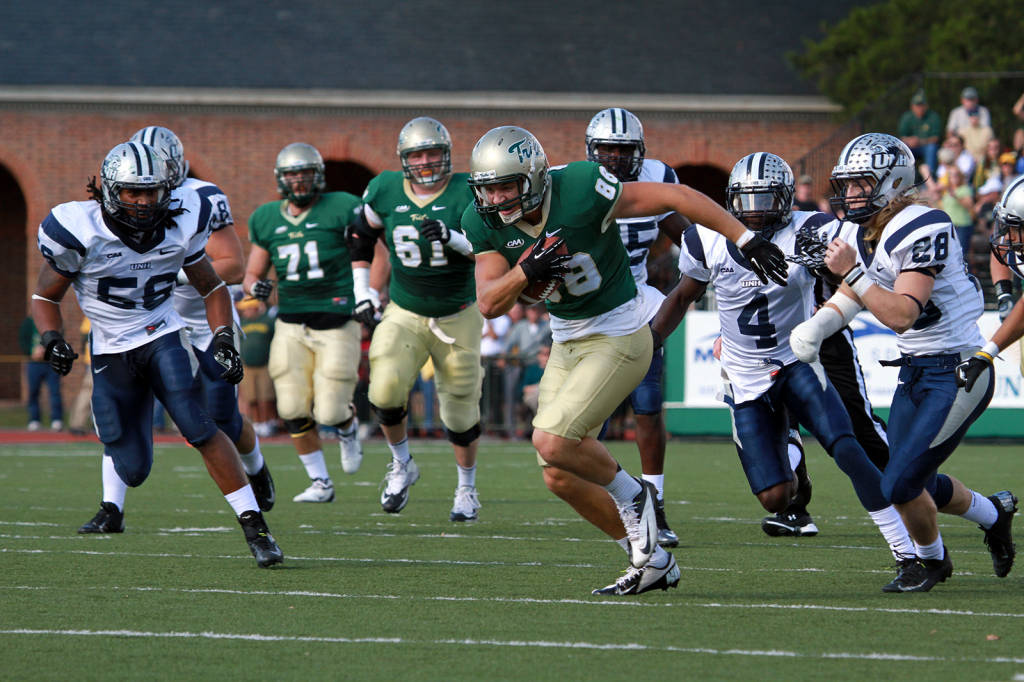 After the convincing 17-0 shutout win over No. 16 New Hampshire, head coach Jimmye Laycock played showman.
"Well, what'd y'all think?" Laycock said.
A week removed from a 17-7 Homecoming win over then No. 19 James Madison, No. 23 William and Mary turned in an even more impressive defensive performance. The Wildcats failed to score in a game for the first time since Sept. 23, 1995, 220 games ago.
"Never in my wildest [dreams] did I envision us shutting out a team like New Hampshire; not because we're not good enough, no, but because they're explosive and have so many players, and their scheme, and all of that," Laycock said. "It was just a tremendous, tremendous display of players doing what they're supposed to and doing it at a very fast pace."
The College (6-3, 2-2 CAA) remained unbeaten at Zable Stadium, using a stifling defense to set up an offense reinvigorated by senior quarterback Brent Caprio's first start of the season.
"I thought [Caprio] played great. He made some big throws, put the ball on the money when he needed to, and made some great reads on third down," sophomore wideout Christian Reeves said. "I thought he was rolling out there today."
Caprio, who completed 14 of 24 passes for 241 yards and a touchdown, got started early with a 61-yard strike to Reeves. Although the drive stalled, Reeves, who recorded four catches for 109 yards, emerged as Caprio's favorite target Saturday.
"It happened to be [that] my name was called on in certain situations," Reeves said. "I played my game and just tried to make plays when my number was called."
Defensively, sophomore safety Jared Velasquez caused the first takeaway of the afternoon. Velasquez tracked down Wildcat quarterback Sean Goldrich, delivering a hit that dislodged the ball and sent Goldrich out of the game with bruised ribs.
Velasquez's hit and junior defensive lineman Mike Reilly's ensuing recovery set up Caprio for an 11-play, 54-yard drive that resulted in a 28-yard field goal conversion from junior placekicker John Carpenter.
Alternating between backup quarterback Andy Vailas and an injured Goldrich, New Hampshire struggled to establish much offensive rhythm. The Wildcat's finished with just 84 yards rushing, converting a meager 15 percent of their third down conversions.
"Coming into the game, everyone one thinks 'pass, pass, pass.' Our main goal is to stop the run, and when we're able to stop the run, it gives our defensive line a great chance to rush the passer," sophomore middle linebacker Luke Rhodes said. "Our secondary is excellent; they like to make plays. That's what we did today."
Rhodes, named the conference defensive player of the week, registered 13 tackles in front of an opportunistic secondary. Starting cornerbacks, sophomore DeAndre Houston-Carson and Ryan Smith, each recorded an interception.
Houston-Carson's interception late in the second quarter gave Caprio and the offense solid field position. Highlighted by a 33-yard completion to Reeves, the five play, 37-yard dive ended in a six-yard touchdown pass to junior wideout Tre McBride. The College entered the half with a 10-0 advantage.
The second half featured few sustained drives from either side, with the exception of the Tribe's 10 play, 84-yard drive to open the third quarter. Caprio again completed a long pass, this time to junior wideout Sean Ballard for 54 yards.
Junior tailback Jarrell Cooper, who rushed for a game-high 92 yards, capped off the drive, knifing his way into the end zone from a yard out to give the College a 17-0 lead.
For the rest of the game, the Tribe defense took control. New Hampshire used three quarterbacks, losing two to injury, while struggling to establish a run game. Of the Wildcat's four rushers, none managed more than 20 yards.
"They're a team that likes to live off the big plays. If you watch the film, they have a lot of big plays," senior safety Jerome Couplin said. "Being able to hold them and keeping the ball in front of us, that was the goal. We did a good job of that."
Reilly and junior defensive linesmen Steven Sinnott and Jasper Coleman all recorded a sack. The Wildcat's faced constant pressure from the College's front four.
"I think we controlled the line of scrimmage. Since Maine, we wanted to get back to being physical," sophomore defensive lineman Tyler Claytor said. "We thought we weren't being physical enough up front, especially in the middle, so the last couple of weeks we got to pin them at the line and make them one dimensional. If we can make a team one dimensional and know what's coming, then there's nothing that they can do."
With playoff hopes still high, the College's confidence in its defense is even higher.
"It's as high as it's been since I've been here. To shut a team out like that — what we wanted to do was to stop the run," Claytor said. "I think this defense could be great. We're number one in the league in scoring defense. Our number one thing is forcing mistakes. We forced turnovers. Good teams don't give the ball up; we have to take the ball away."
The Tribe travels to Delaware Saturday, facing its third ranked opponent in as many weeks. Kickoff is set for 3 p.m.