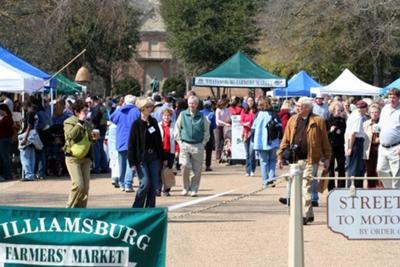 Take a stroll down DoG Street one Saturday morning and marvel at striped and speckled gourds, pumpkin-flavored pastries and an overly aw-worthy amount of adorable babies and puppies. As a conglomeration of local food and craft vendors, the Williamsburg Farmers Market assembles Saturday mornings from 8 a.m. to noon in Merchants Square.
The view from Confusion Corner reveals an array of tents rife with merchants from more than 20 producers, creating an aisle of enticement. Tangy Granny Smith and Arkansas Black apples from Drumheller's Orchard and savory sundried tomato bread from Lucille's Bakery greet you upon entering Colonial Williamsburg.
The journey of sensation doesn't stop there.
A multitude of mouthwatering delicacies waits for you down the brick pathway. Continue through the Market and test your taste buds with some peach, blackberry mint and "strasberry" (a medley of strawberry and raspberry, also known as heaven in a jar) jam from Jan's Jams. Scuttle on over to Bees 'n' Blossoms for a jar of Power Honey filled with antioxidants to spread on a fresh piece of bread from The Greek Bake Shop. Finally, top it all off with a hand-rolled truffle from Chocolate Cravings.
Tucked to the side lies a Chefs Tent, courtesy of Colonial Williamsburg. Here you can learn how to prepare specific dishes like sliced apples doused in batter, fried and sprinkled with powdered sugar, just to give one tantalizing example.
So, settle a groggy morning mood with a trip to the Farmers Market. Grab a scarf, a buddy and a basket, and brave the brisk, yet refreshing, fall air every once in a while. But be quick, for the treats and fresh veggies are nabbed quickly.
Unfortunately, the weekly market gatherings ended Oct. 26 of this year. However, there will be holiday markets Nov. 23, 30 and Dec. 14. The vendors accept William and Mary Express.