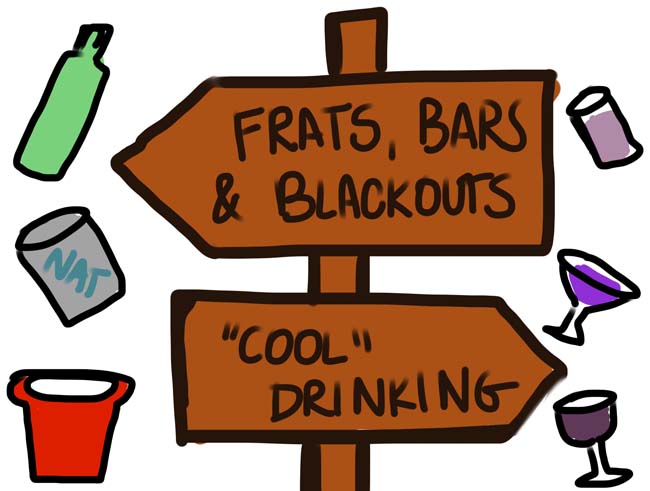 You don't have to be a college student to know what happens on college campuses on the weekends. Once your phone says it nine, it's time. Students in groups outside of dorms, outside of bars, short skirts, the glorious smell of alcohol. It's the weekend and time to turn up.
Please tell me how it goes again? First, you get dressed; second, you pre-game with intimate friends; third, you party with alcohol and a lot of "friends" and strangers; and finally, you meet the wondrous fork in the road of turning up. Is it the road to vomiting and crying in the front yard of the nearest home? Or is it traveling as a group with your other intoxicated friends to Wawa, screaming how much you love each other and how many more drinks you had than the girl walking next to you?
My question is: Is there another option? No? Well, that's a bummer. I have seen this movie so many times — three days a week to be precise: Thursday, Friday and Saturday. These days are the weekend, and my weekends really need to become more interesting.  How do people get so hyped about doing the same thing they did last week? How spontaneous can you get? The whole act of turning up has become repetitive and boring. I'm tired of yawning every weekend before 10 p.m.
You are in college, so you drink because you can. It is the thrill of freedom, right? You have now broken those chains of childhood and that close proximity to the watchtower of your parents and have easier access to this liquid liver killer. And because of this access, you drink and feel compelled to say whatever you please. Are you feeling bold, my friend? I'm guessing you are. You are no longer required to have a social conscience and you feel free to offend, be weird, and embarrass yourself. No, the boys in your hall do not want to know that you are mad at them for not being physically attracted to you. But thanks for sharing.
You don't see it this way when you are part of this cliche group. For you, it is just like the party scene outside of Gatsby's castle, right? Being surrounded by friends and strangers, bottles of alcohol so expensive but so cheap that you can't even smell the alcohol on your breath after ten sips. Is it a formal? Well, if it is, there must be the shimmering light of glow sticks around their necks, the stumbling and buckling of knees as stiletto virgins click on the bricks and trip into a show that puts a smile on the faces of their equally inexperienced friends.
It is funny that some may see this image as their idea of exciting lives on a Saturday night, because I see this picture differently. Leonardo DiCaprio is not going to welcome you to his mansion of glitz, glam and ill-thought-out choices and then grace you with a toast and call you "old sport." It is time for college students to change the drinking scenes reminiscent of "The Hangover," "Superbad" and "Mean Girls." It is time for students to wear clogs while drinking and make a new sound. It is time to be original. Start a revolution and make drinking cool again.
Email Jillian Bates at jabates@email.wm.edu