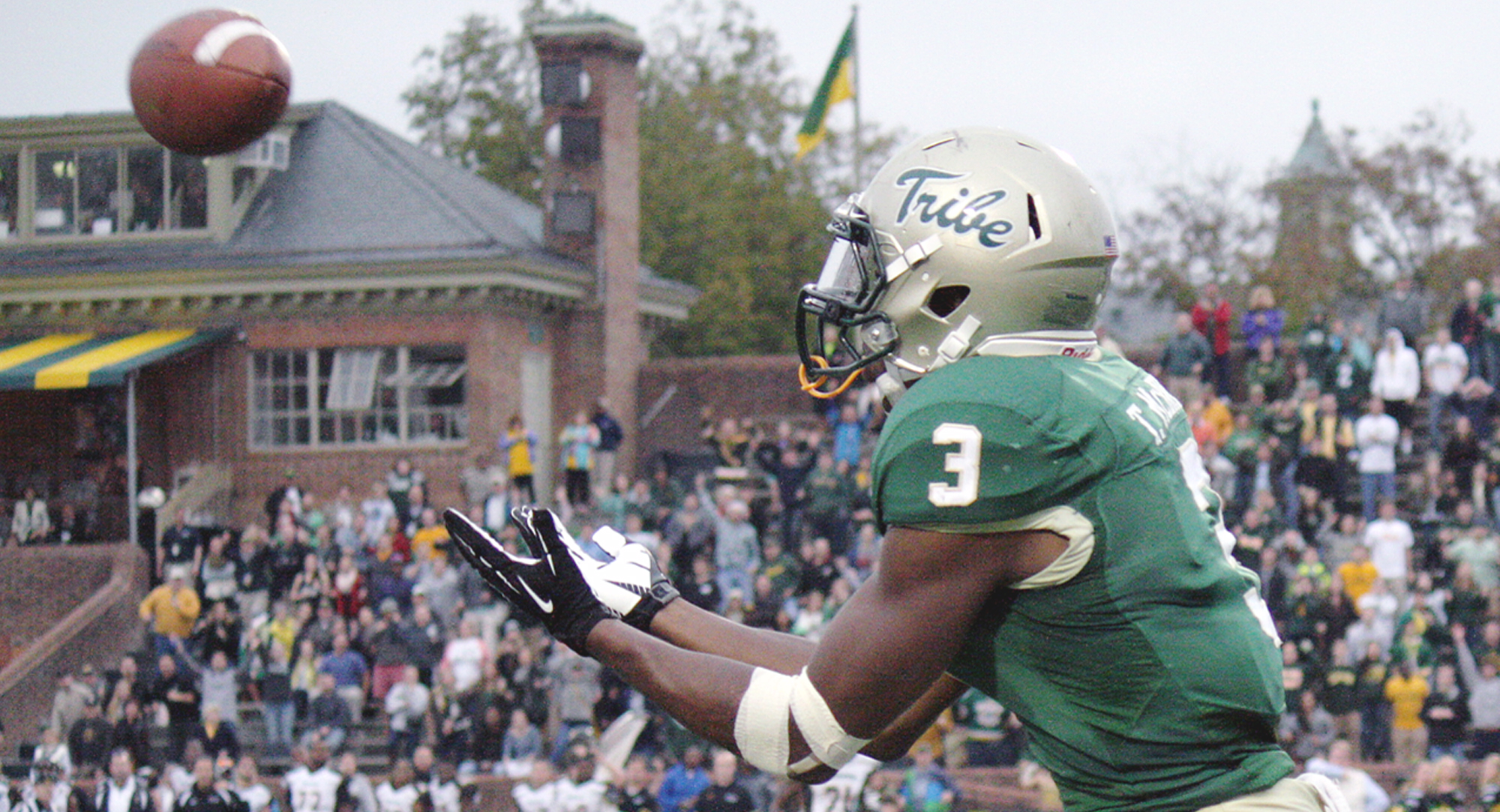 In a match featuring the Colonial Athletic Association's top offense in Towson and the nation's No. 1 scoring defense in William and Mary, something had to give.
The College (7-4, 4-3 CAA), facing its fourth nationally ranked opponent in as many weeks, largely kept Towson (9-2, 5-2 CAA) off the scoreboard but failed to produce offensively, falling 15-9 in its regular season home finale.
View photos from Saturday's game at Zable Stadium (all photos by Ashley Richardson / The Flat Hat) 
"We knew they were going to be a good team. We knew what they were going to try to do is run the ball, and we knew it was our job to stop the run," senior safety Jerome Couplin said. "We expected it. We prepared for it. We just gave it the best effort we could."
Couplin, named to the Buck Buchanan Award Watch List Friday, recorded 13 tackles as the Tribe's defense held Towson's high-octane offense to 342 yards and a season-low 15 points. Still, Tiger's tailback Terrance West rushed for 160 yards and two scores, topping 4,000 yards in his three-year collegiate career.
"First, I want to tip my hat to [the Tribe's] defense. They have a great defense, and then I want to give a shout out to my offensive line, they played a hell of a game. It starts up front," West said. "Today, we just wanted to win. It was a tough crowd, a tough place to play, they were 5-0 at home, and we came in and came up with the win."
While the College's defense dealt with West and Towson's quarterback Peter Athens, who accounted for 133 yards through the air and on the ground, senior quarterback Brent Caprio and the Tribe offense struggled to finish drives. Despite scoring on three of its first four possessions, the College managed just nine points, all in the first half.
Junior placekicker John Carpenter finished the day 3 for 3, with field goals from 43, 30 and 31 yards. Carpenter's 30-yard field goal with 30 seconds remaining in the first half sent the Tribe into the break with a slim 9-7 advantage.
Towson resorted to trickery for the go-ahead score late in the third quarter. Facing a fourth-and-nine from the College's 13-yard line, Towson's holder Connor Frazier set up for the field goal attempt. Instead of going for the field goal, Frazier took the snap to the right before planting and heading up field for the first down. West punched it in from three yards out for the go-ahead touchdown on the ensuing play.
"Surprise me? I don't know, not much surprises me out there anymore, to be honest with you," head coach Jimmye Laycock said. "I think it surprised our defensive players. They weren't quite ready to react to it like they should have. I don't think they reacted well enough, obviously, because they picked it up. That was a gutsy call."
Towson head coach Rob Ambrose made another gutsy call on the following snap, electing to go for the two-point conversion. Couplin came up with the football after a Towson fumble, but then fumbled on a return attempt. Frazier, hero of the fake field goal, fell on the ball in the end zone to put the Tigers ahead 15-9.
Towson's placekicker Drew Evangelista then dinged a 25-yard field goal attempt off the left upright, giving Caprio and the offense 2 minutes and 42 seconds to complete a game-winning drive.
Caprio, who finished 13 of 27 for 167 yards and an interception, completed passes to junior wideouts Tre McBride and Sean Ballard before finding junior tight end Bo Revell for a first down in Towson territory. Caprio's next three passes all fell incomplete, setting up a fourth-and-ten from the Tiger's 43 yard-line with 1:33 left in the game.
Flushed from the pocket, Caprio rolled to his right and launched a pass to an open McBride. Falling backwards and with Towson's defensive back Jordan Love closing, McBride bounced off the turf and failed to make the catch. McBride laid on ground, seemingly in disbelief, while the Towson bench stormed the field.
"It was fourth down, couldn't take a sack; I tried to buy as much time as I could and throw it up and try and make a play," Caprio said. "It just didn't work out."
McBride finished with six catches for 88 yards and compiled 41 yards on two kick returns.
Towson dominated time of possession, 34:15 to 24:14, while converting all three of its fourth-down conversions. In contrast, the Tribe turned the ball over on downs on three fourth-down conversion attempts.
"It was a tough game, it was a physical game. I thought both teams played very, very hard. I thought we competed and played well, but we made a few mistakes — things we just don't do," Laycock said. "I thought we had a shot there at the end, and we couldn't do it. Again, I can't fault our guys' effort. We had a number of guys get banged up and go out. I thought our guys gave a heck of an effort."
The loss likely means the College must win Saturday's regular season finale at rival Richmond (5-6, 3-4 CAA) to keep alive its post-season hopes. The Tribe has six days to shake the disappointment of Saturday's loss.
"You can't really look back and say we didn't play hard. Everyone on the team fought, fought to the end. It just didn't go our way sometimes — that's just how it works," sophomore middle linebacker Luke Rhodes said. "We were tired there, we were getting worn down, but nobody ever quit. We played till the end."