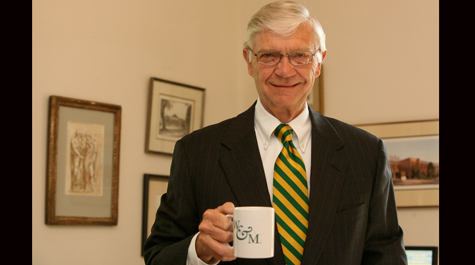 When the creator of @fakereveley first made the Twitter account as a freshman, he had no idea how successful it would become. Three years and 1,242 followers later, @fakereveley has gained quite the following on campus.
"I think [Reveley's] a compelling guy with a compelling sense of humor," the creator of @fakereveley said. "In the beginning I wanted to include things that he would usually say, using his unique vocabulary. But as the account evolved, it's turned into more of a critique of campus life."
The account comments on campus happenings such as Orientation, Blowout and Homecoming, as well as current events and aspects of campus life.
"As much as Reveley may not say some of the things that I attribute to him, I think that he'd agree with most of the sentiments," the creator said.
Although the "unofficial, unapproved, unaffiliated, yet surprisingly succulent Twitter feed of William & Mary President W. Taylor Reveley III" has over 1,000 followers, the account's inspiration has yet to read it.
"I've been told 'fakereveley' exists, but I haven't seen it," College of William and Mary President Taylor Reveley said in an email. "Given the great creativity and finely grained sense of humor of W&M students, I imagine it does a good job capturing my essence."
Although the creator of @fakereveley is graduating from the College this December, he has yet to choose a successor to the account.