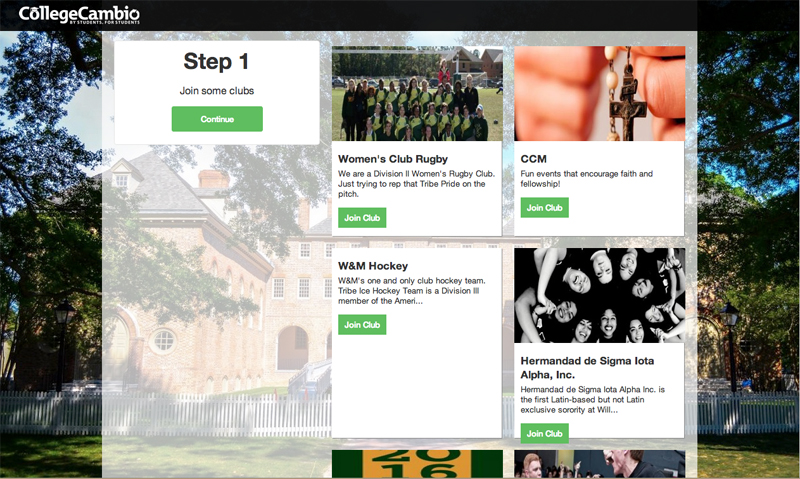 During fall 2011, Joe Laresca '15 and Matt Sniff '15 launched CollegeCambio, an online marketplace designed by the then Yates-dwelling freshman hallmates exclusively for students at the College of William and Mary.
Requiring an email.wm.edu address to join, the 2011 version of the site looked to expand to the original mission of Facebook-like status. Now, with its most recent re-launch, Laresca and Sniff increased the services provided by CollegeCambio beyond the original marketplace.
"This year, it's a full-fledged social network," Laresca said. "[The site is] at a good place and close to being where we want it."
Originally, CollegeCambio served as an online marketplace where students could buy and sell used textbooks or dorm essentials as well as find and offer rides and other services students at the College may find necessary. However, the team wanted the website to provide more services and, after it's Nov. 20 re-launch, the website boasts open forums, anonymous discussion boards, a class and professor review system, forums for clubs and organizations to promote their events and a ride-arranging service
For the re-launch, the duo split up the work — Laresca handled marketing and public relations and Sniff the website coding. A third teammate, Hareesh Nagaraj '15, who also lived in Yates their freshman year, joined the team following the trio's summer internship at Princeton University where some of them created a photography website, PhotoRankr.
"We gained a lot of team chemistry very quickly," Nagaraj said.
Laresca and Sniff's goal for CollegeCambio remains close to that of the original 2011 site: to link everyone on campus through a single online medium. The team felt that the College's organizations were disjointed and that, if the community was connected through the same website, students would have a much better idea of what was going on.
Laresca noticed that students tend to ignore the flyers stapled across campus bulletin boards and  thought such information about events and campaigns would be more readily available if posted online.
CollegeCambio previously re-launched in November 2012 to streamline the original features and engage in an online marketing campaign to raise awareness.
Since its release, 1,700 users have adopted CollegeCambio and about 1,100 of users registered in the first year of the site.  The team is still trying to increase their users and active use of the site.
According to Sniff, the difficulty has been getting people to use the website on a daily basis, rather than just joining. The team hope that CollegeCambio's anonymous posting tool in their discussion boards will make people feel less polarized when they post and increase site traffic.
"If we get students to use it, it'll be invaluable," Sniff said. "The fact that it's students and not cross-checked with administration is a big deal."
Student Assembly Chief of Staff and another previous resident of Yates Hall Drew Wilke '15 said CollegeCambio is a great idea, highlighting the differences between it and regular social media sites. To Wilke, CollegeCambio, unlike Facebook, is completely oriented toward the College student body.
"It brings the community aspect together. It's a lot easier to interact," Wilke said. "If used, it can have a lot of impact."
The team plans to introduce their website to students at Stony Brook University and Princeton University. They have also received notice that several other Ivy League schools are interested in using their website.