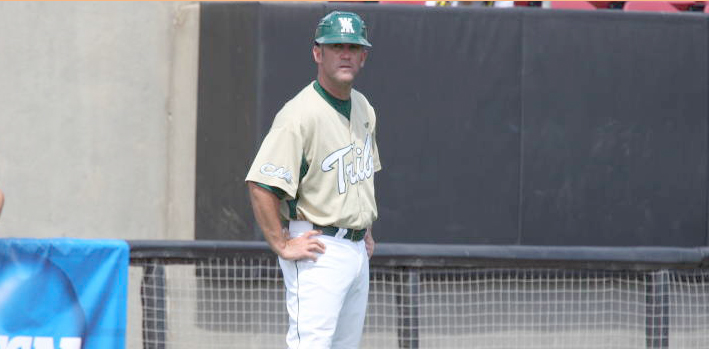 Jamie Pinzino resigned after a year as head coach Monday, leaving to accept a position as pitching coach at the University of Oklahoma. Athletics Director Terry Driscoll named Brian Murphy the program's new head coach Tuesday.
Murphy served as the team's hitting coach last year after  a three-year stint as Brown University's pitching coach and recruiting coordinator.
"In Brian Murphy, we have a rising young coaching talent to lead the program. Brian's list of accomplishments over the last 11 years speak for themselves, most especially what he has achieved in his time at William and Mary," Driscoll told Tribe Athletics. "I am excited to see him continue to move the program forward."
Pinzino's short tenure as head coach encompassed arguably the most successful season in program history.
The Tribe ended its season with a program-record 39 wins and earned the program's first at-large bid into the National Collegiate Athletic Association tournament, where the team reached the regional final after defeating the University of Mississippi twice.
Following its historic run, the Tribe was ranked No. 28 in the nation by Sporting News, the first ranking in program history.
"I am honored and thankful to have this opportunity. To coach at Oklahoma is to have the chance to work with some of the best players in the country and compete for a National Championship every year," Pinzino told Oklahoma Athletics. "Coach [Pete] Hughes is a proven winner and I look forward to the chance to work with him and the rest of the Sooner staff and players. I am eager to get started with practice, and to see what we can accomplish in the next few seasons."
Murphy coached the Tribe's batters to a .376 on-base percentage and 377 runs last season, fifth in the Colonial Athletic Association. After being hired to fill Pinzino's vacancy at head coach, Murphy expressed his gratitude.
"I am very excited to get the opportunity to build upon the positive momentum surrounding Tribe baseball," Murphy told Tribe Athletics. "Our staff is very excited for the upcoming season and eager to get to work. Lastly, I am very thankful to have had the chance to work with Jamie Pinzino again and wish him tremendous success at Oklahoma."
Pinzino offered thanks and reflected on two years at the College.
"I would also like to thank Terry Driscoll and the administration at William and Mary for the opportunity to coach in Williamsburg for the last two seasons," Pinzino told Oklahoma Athletics. "I truly enjoyed my time there and wish Coach Murphy, his staff, and the Tribe players continued success in the future."
The College returns the majority of its starters and opens the season Feb. 14.