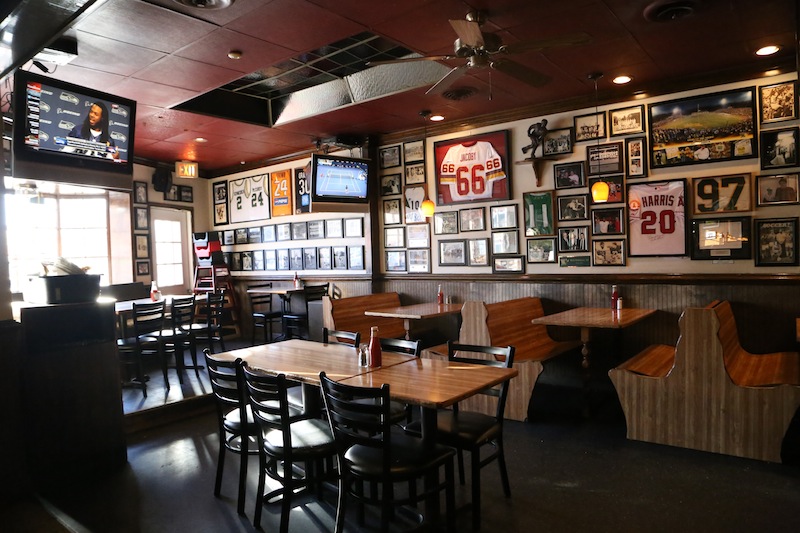 Paul's Deli is what every college bar in a movie or television show aspires to be.
Not because of the walls full of Tribe sports-themed pictures and paraphernalia — although those are a great touch — and not just because it's just steps away from Zable Stadium. Less dark and depressing than the Green Leafe, more lived-in and intimate than the Crust and less packed sardine-style with social climbers than the College Delly, Paul's is comfortable, cozy and consistent. It's a home away from home.
The food is good enough to spend three hours pecking away at while watching the Jets lose, and it becomes absolutely phenomenal after sharing a few $6 pitchers of watery, somewhat tasteless Bud Light.
The service ranges from warm and friendly to cold and short, but that couldn't matter less, because at Paul's, time stands still while your buzz grows into a stupor. Those cheese fries that you just drunkenly downed at 1 a.m.? Those are the same cheese fries you soberly felt guilty about eating at 3 p.m. on a Sunday freshman year — back when you would look on enviously as the older guys bought round after round, unaffected by the stigma attached to drinking mid-day.
Which brings me to my next point: Paul's is a bar completely lacking in judgment and pretense. Want to argue a bit too loudly over Roger Clemens' Hall of Fame credentials? Have at it. Want to sit silently with an Italian sub and a domestic beer while flipping through your study guide? Totally fine. Just don't get caught standing in front of the TV during the fourth quarter of game six of the NBA finals. That's not cool.
So drop in with some good friends. Push away the empty pint glass from your table's last occupants, get a pitcher and the chicken souvlaki platter, and feel the tension built up from a week of tests, papers and your roommate's lack of interest in cleaning release. Crack a stupid joke about Tim Tebow's picture or about Jimmye Laycock's age. And when you're finished, leave the bartender a decent tip.
Most of all, take comfort in the knowledge that years after you graduate, when you come back for homecoming or to tie the knot, Paul's will still be serving up the cheese fries — hopefully with a smile, but maybe not. It'll be just as you left it.