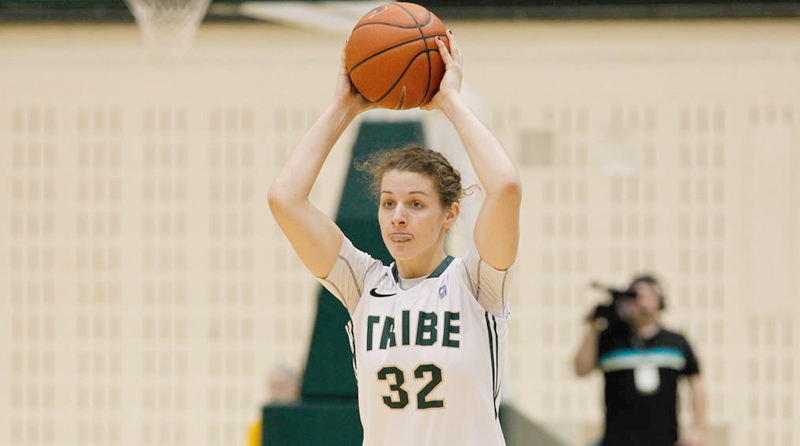 William and Mary (4-13, 1-4 CAA) won its first Colonial Athletic Association game and received its first victory of 2014, beating Towson (9-10, 3-3 CAA) 69-60 Sunday.
After losses to CAA opponents College of Charleston and Drexel earlier this month, the Tribe began to play to its potential.
The College dominated the start of the game, leading Towson by 20 points after a half that saw the Tribe score 41. The College shot 58.3 percent from three-point range, making 7-of-12 attempts.
"We were just moving better, our zone was moving, we were communicating better. … It seemed like everybody was connected on a string, especially on defense," head coach Ed Swanson said.
Sophomore point guard Brooke Stewart highlighted the College's success in the first half, sinking three three-point shots in the opening period.
"She played her role; I thought [Stewart] was Reggie Miller there for a little bit," Swanson said. "The team did an excellent job of finding her, and she did a great job getting her feet set and knocking down those shots."
One of the main threats to the Tribe in the second half was Tigers point guard Tanisha McTiller. McTiller ended with 28 points, outscoring Towson's second-leading scorer, forward LaTorri Hines-Allen, by 11 points.
Senior forward Kaitlyn Mathieu, who scored 19 acknowledged McTiller's offensive ability.
"She's a quick guard. … [McTiller's] game is driving to the basket, but she also has a nice pull-up game so it was hard to defend her," Mathieu said. "She's just one of the top players in the league … and she attacked us in our weak spots."
With McTiller's leading the way, Towson outscored the Tribe 39-28 in the second half. Still, the Tribe played an aggressive half and did not let its lead falter.
The Tigers physical play lead to a 45-37 rebound advantage, offset by the College's 11 steals.
"We saw the strides that we'd been taking in practice, and we just didn't let up. Preparation for the game was key and then we came in and just started hitting our shots," Mathieu said. "We didn't let up in the second half, so I think that was a big key to our win."
Mathieu and junior forward Jazmen Boone led the College in turnovers and impressed defensively. Boone chipped in four assists alongside her 12 points.
"[Boone] has a lot of energy up there; she's just so good at reading people in the front line, and she's the one that gets us going at the top," Mathieu said.
Alongside Mathieu, freshman guard Marlena Tremba added 17 points. Swanson pointed to the College's 18 assists as key to its offensive success.
"It helps when you make shots, but also when you have 24 field goals and 18 assists on those field goals. That shows good team basketball," Swanson said. "Where you look on the other side, and [Towson] had 25 field goals and five assists."
Tremba's performance continued an outstanding freshman campaign. Despite being new to Swanson's system, Tremba enjoys regular playing time, notching 28 minutes against Towson.
"It's great that I get a lot of minutes as a freshman. I wasn't expecting it when I came in. I thought I'd probably get 10 to 20 [minutes]," Tremba said. "I thought my teammates did a great job of getting me open and hitting me when I was wide open with passes."
As the College continues CAA play, Swanson is encouraged by his team's performance. Swanson said a point of focus is answering opponents' runs.
"[The key] is to continue to weather the other team's storm, because the game is a game of runs, and when a team [made] a run today we had answers for their run, and that's what we need coming up in the next two games," Swanson said.
The Tribe will face Drexel once again Thursday in Philadelphia and College of Charleston Sunday at 2 p.m. at Kaplan Arena.