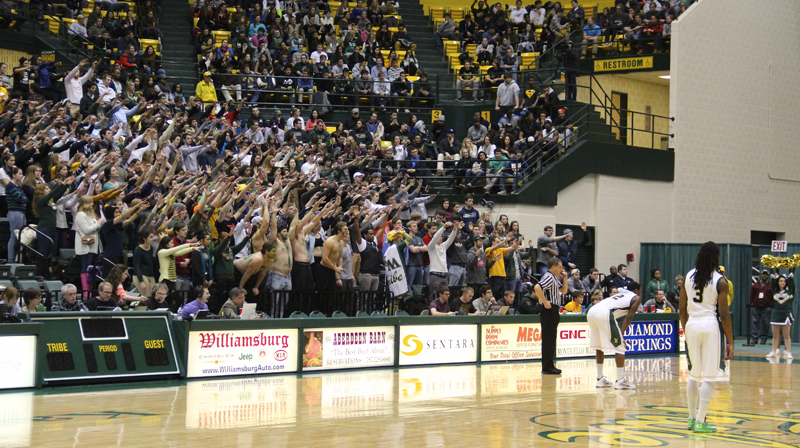 There were signs, songs, chants and taunts. There was sophomore middle linebacker Luke Rhodes, the triumphant "R" in a line spelling out "TRIBE."
Throughout the entirety of William and Mary's 89-72 loss to Delaware last Wednesday, the College faithful filled Kaplan Arena with an atmosphere rivaling most Colonial Athletic Association courts.
"I thought the crowd was unbelievable today. A loud environment — to be able to come out of [Kaplan] with a 'W' is very satisfying for our ball club," Delaware head coach Monte Ross said. "This place was loud and hostile."
Averaging an attendance of 2,844, the College has won seven of its 10 home games this season. Through the first 10 home games last season, Kaplan Arena was averaging an attendance of 3,107.
Still, head coach Tony Shaver noted that this season's crowds, especially the student section, might be the best he's seen in his eleven years at the College.
"It kind of broke my heart a little at the end of the game. We have a great student crowd, maybe the best since I've been here," Shaver said. It's been really neat to see. Our guys have done exciting things to bring them in here, but it broke my heart a little to see so many people in there and that many students — for us to not play any better and play up to our abilities."
Slated to play four more home games this season, the College returns from a three-game road trip Feb. 15 to host CAA foe Towson.
——
Head coach Tony Shaver
You guys have been awesome this year supporting our exciting basketball team and especially at the recent Delaware game. I know the team wishes it had a better night for such a great crowd. 
You may not realize how much it means to our team and [your support] can spur them on to better performances. There has been an exciting atmosphere and all have made it fun to be a part of the games. 
Stick with us! We will keep working and continue to need you! Let's keep Kaplan rocking with an amazing atmosphere!