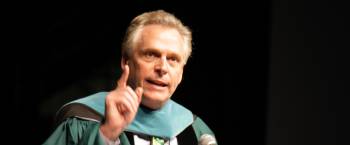 Alumni, students and other members of the College of William and Mary community gathered to observe the College's 321st birthday during the annual Charter Day ceremony, held Friday afternoon at William and Mary Hall.
"We pause today to celebrate yet another birthday in the College's long life," College Chancellor Robert Gates '65 said in his remarks during the ceremony. "I suspect if we had a cake with the requisite number of candles, that we would stand a good chance of burning down the [Sir Christopher] Wren Building yet again."
Gates, who returned to the College for the weekend's events, also joked about his neck brace, which he now wears after fracturing his first vertebrae New Years Day.
"I decided that the Chancellor's regalia needed further adornment, and so added an Elizabethan collar," he said.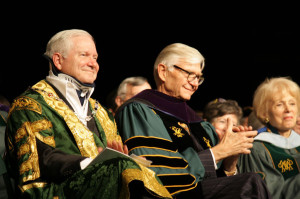 Following Gates' remarks, Governor Terry McAuliffe received an honorary degree from the College and served as the ceremony's speaker. He emphasized his efforts to increase access to education and to make Virginia more open to all.
In his first appearance at a college campus since being sworn in as the state's new governor, McAuliffe commended the College on the accomplishments of its alumni, as well as on its commitment to service. He mentioned that there are more College graduates in his cabinet than graduates of any other college or university in the United States.
McAuliffe thanked College President Taylor Reveley and Rector Todd Stottlemyer '85 for their work on the William and Mary Promise, which he cited as an example of innovation and a commitment to providing access to education to all members of the state.
He also spoke about his first executive order as governor, which bans discrimination based on sexual orientation in the Virginia workforce.
"In order to attract the best and the brightest, it is important to keep Virginia open and welcoming to everyone," McAuliffe said. "We want everyone to feel welcome in the commonwealth of Virginia, and that is why I did what I promised I would do: Within minutes of being signed in as governor, I signed Executive Order number one."
Along with McAuliffe, mathematics professor David Lutzer received an honorary degree from the College.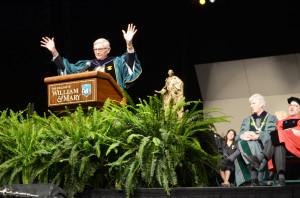 Reveley also recognized James Comey '82, Gary LeClair '77 and Joyce House Shields '64, who received the College's Alumni Medallion over the weekend. English professor Jacquelyn McLendon was presented with the Jefferson Award, while assistant professor of psychology Cheryl Dickter received the Thomas Jefferson Teaching Award.
The Drapers' Company of London received the Lord Botetourt Award, which honors non-alumni members of the College community who are philanthropically active.
Students were also recognized at the ceremony: Laura Godwin '14 was honored with the Monroe Prize for Civic Leadership, and Stephen Cameron '14 received the Thomas Jefferson Prize in Natural Philosophy.
Ariel Cohen '14 served as the student speaker at the ceremony, emphasizing the importance of the College's community and the families she found over the course of her career.
"Life at William and Mary is about so much more than those stressful lectures or those completely out-of-the-blue pop quizzes," Cohen said. "Life here is about the people."
Both McAuliffe and Cohen mentioned bouncing back from failure in their speeches. Cohen spoke about the College community's support in times of difficulty, while McAuliffe encouraged students to take chances.
"Four years ago, I ran for governor, and I got crushed," McAuliffe said. "It happens. But you know what, folks? I got out of bed the next day, I dusted myself off, and I went right back to work. And that's the reason I'm standing here as the 77th governor of the commonwealth of Virginia. Take chances — you're going to get knocked down. Get right back up and get back in that arena. "
Editor's Note: Ariel Cohen '14 serves as Chief Staff Writer for The Flat Hat.