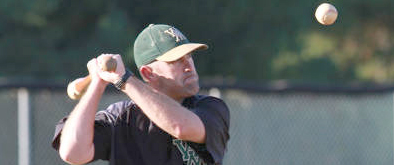 As William and Mary heads towards conference play among its winter sports, the spring sport athletes prepare for the new season.
Fresh off a first-ever National Collegiate Athletic Association tournament run, the College's baseball program looks to carry its momentum forward with first-year head coach Brian Murphy (click here for the video). The lacrosse program welcomes first-year head coach Hillary Fratzke and looks to improve on a 2013 campaign that saw five wins. Under director Stephen Walsh, the track and field program will look to defend its CAA titles.
—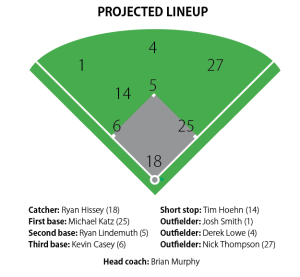 Bringing momentum from last year into this one
Last year was a terrific year. I think there's a good deal of momentum surrounding the program. As far as transitioning from last year to this year, this is a different team. We're a 0-0 team, some of the lessons learned last year, some of the experiences gained, transfer and have value coming into this season. This group has to prove itself on its own merits. We have some awesome players off of last year's team, and the experience of knowing what can be accomplished if we string together some successful days.
Underdog role in the CAA
Expectations are [how] other people perceive you, and I think in the end one of the good things about baseball is that everyone plays everyone, every team in the conference plays each other three times. So it's a big enough sample size where you do get to decide who the best team is. Picking Wilmington, I mean they've won two regular seasons in a row and are returning many of their best players; [they] were a two-seed in the NCAA tournament last year. So I think they're a worthy pick. If I had to pick a favorite, I probably would have picked them, too. As far as chip on our shoulder, not really. I think we're about to hopefully prove that we're one of the higher-end teams in the CAA. That's kind of our goal. To be a post-season caliber team is the goal for the season.
Replacing John Farrell '13 
Obviously John was awesome last year, from beginning to end. As far as filling that role for this year as kind of the headliner of our pitching staff that would be Jason Inghram. He'll be our Friday night guy, which is what John was for most of last year. The first guy on your staff sets the tone for a lot of what happens on the weekend and Jason's a great candidate for that. He obviously pitched the opening game of the NCAA tournament last year. He obviously was in all of our 14 15 weeks of the season. He's one of the key components of our season. He's one of the most highly regarded pitchers in the conference, and he's more than capable of stepping into that top-spot in the rotation.
Breakout years for position players
I like all of our position guys. There are a bunch of guys that you would recognize from last year, like Lindemuth, Katz and Hissey. Some of the other guys positionally, Kevin Nutter will be back for a full season this year. He redshirted halfway through last year; he took a medical redshirt last year. He's a great offensive player, leadoff-type guy for us. Willie Shaw played a bunch last year. He's back this year, really good hitter, does a lot of things for us. We got a bunch of transfers for this year who are looking pretty good. A kid named Nick Thompson, a transfer from East Carolina. He can hit, he can really hit. I think you guys will enjoy watching him, he's a nice addition. A kid named Kevin Casey, played four years at Lafayette, has an extra year of eligibility because of an injury situation earlier in his career. He's going to play the infield and could potentially be our closer to start the season. So he's a multi-talented guy. We have Josh Smith back again this year. He played a bunch his freshman year, didn't play much last year so he's back with us this year, looked good in preseason. Derek Lowe's back; he'll play center. Charley Gould's back for us, too. He's kind of a DH-type guy for us and our backup catcher.
We might start a freshman at shortstop, a kid named Tim Houen from New Jersey, so he's a guy who'll see some action. But overall it's a veteran group positionally, and a lot of guys who've played a bunch [of] … places [other] than here, but some guys who can really hit, that will hopefully allow us to put together a pretty complete group.
On Michael Katz
Mike was terrifically consistent last year; that was the big thing. When you have as good a season as he had, you just have to put together good bats day after day.  Obviously he's dangerous. He's a got a good amount of power; he can hit some doubles and home runs. When he [swings] at good pitches, when he controls the strike zone, he's really tough to beat. He gives us a really good presence in the middle of the lineup, and he's been really good again this fall, this preseason, and over the summer. He's one of those guys in the middle of the lineup who everyone else can take their slots from. He's a guy that pitchers coming into the series are very much aware of.
On the bullpen
Your bullpen is largely dependent on your rotation guys. Right now our rotation would be Inghram, Sheehan and Aker, so that's two converted relievers to pitch with Inghram, who was in the rotation last year. So if those guys keep those spots, our midweek rotation, our bullpen will basically be from a contingent of everyone else. I guess working back to front: Kevin Casey will get the first chance to close out games. There are some challenges obviously with having a position player also be your closer. It forces you to make some moves late in games, where you're bringing in players to play third base in the 9th inning. We feel like he's got a good mix for it, and he did it before at Lafayette. He's a good candidate for it, so he'll get the first crack for most days when his arm allows because we do ask him to do a lot. A guy named Joe Gaouette, who pitched a few times last year, will be the primary set-up guy for us. A couple of freshman are growing into roles where they'd be set-up-type guys for us. A kid named Nick Brown and Dan Powers, who are both first-year guys for us who have pitched pretty good. And then we have some guys who are potential rotation-type guys, like J.T. Castner and a guy named Bryson who is a junior transfer from a junior college that could pitch in a variety of roles, they could start mid-week games or they could be key relievers on the weekend. Other than the very back-end guys, you have some guys that can swing into a variety of roles. But I think flux is a decent word for it. You'll see some guys early in the season, pitching various roles and we'll have to figure out who's pitching well because whoever's pitching well will pitch a lot. It's a somewhat similar situation to last year, where we had to figure out who was going to be pitching in our bullpen.
Expectations in opening series vs. Army
Hopefully we'll play some good baseball on our end. We haven't been out against another team since June 3rd or something last year. We're excited about … control what we're able to control, make them play really well to beat us if they're going to. Throwing a bunch of strikes, playing very good defense, playing competitively. I'm sure any time it's opening day players are going to be very excited because they haven't played competitively in so long. But when you get on the field, you just want to slow things down and do the things that make you successful. They're a pretty good opponent, have been in the tournament a bunch, one of the best teams in their conference.