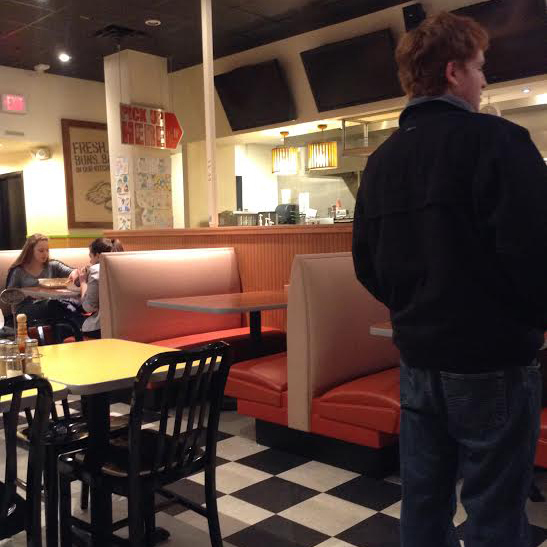 Tribe Square vendors have entered into discussion with next year's food provider, Sodexo, about joining the College of William and Mary's meal plan.
Vice President of Administration Anna Martin said that when the issue of Tribe Square came up in discussions, the College asked Sodexo if the school could work with Tribe Square to make them sub-contractors in a partnership similar to the relationship Aramark has with Einstein Bros. Bagels.
If the deal goes through, the four businesses in Tribe Square — Pita Pit, The Crust, MOOYAH and SUBWAY — would work with Sodexo on an individual basis to create a customized plan.
"This allows them to figure out some way that the retailer fit[s] in the meal plan," Martin said. "That can happen in a variety of ways — either with Flex points or something else, like the equivalent of a meal plan."
Martin noted that Sodexo has not begun conversations with the businesses in Tribe Square, and will not do so until the College finalizes its contract with Sodexo sometime in the next few weeks.
"We are hoping to be able to offer meal swipes here," MOOYAH owner Alpen Patel said.
Although he has yet to talk to Sodexo about the matter, Patel said he looks forward to furthering the business's partnership with the College.
"There are benefits on two parts. It helps the business in volume, and it also gives the students more options," Patel said.
Currently, a meal plan swipe costs approximately $12.00, and a burger, fries and soda from MOOYAH costs about $11.50.
In January, Patel estimated that MOOYAH sales dropped $10,000 since the same time in 2013. At the time, Patel attributed the revenue loss to the College's introduction of a mandatory on-campus meal plan for freshmen, sophomores and juniors that was put in place two years ago. By partnering with Sodexo and the College, Patel said he hopes the restaurant will increase its revenue, especially among student customers.
"We are looking for three things from Sodexo; to get under the meal plan, to get under Flex points and to keep use of Express," Patel said.
The Crust Beer and Tequila Lounge is also looking to become incorporated under the meal plan.
"While students became forced to eat on campus, it hurt our business," Crust Manager Rob Kline said. "We are technically on campus. There are dorms right above us."
Between 2012 and 2013, The Crust's profits decreased by between 20 and 25 percent.
"We use Express now, but that's still money," Kline said. "If we could we could get on the meal plan we'd become more a part of the school, and not just pay rent to them."
According to Martin, when the College switched to the mandatory meal plan, 83 percent of students were already on the meal plan. In light of Tribe Square restaurants' recent decline in revenue, the pairing with Sodexo could help increase business.
"We want to help the vendors in any way that we can," Martin said. "Will this completely fix the problem? I can't say."
While The Crust and MOOYAH both hope to partake in the meal plan, it is possible that not all local restaurants will do the same.
"To be honest, it's going to be different for everybody. Even if we get on the meal plan, we will have to give a percentage back to Sodexo," Patel said. "So this may make economic sense for us and [T]he Crust, but not for other places."