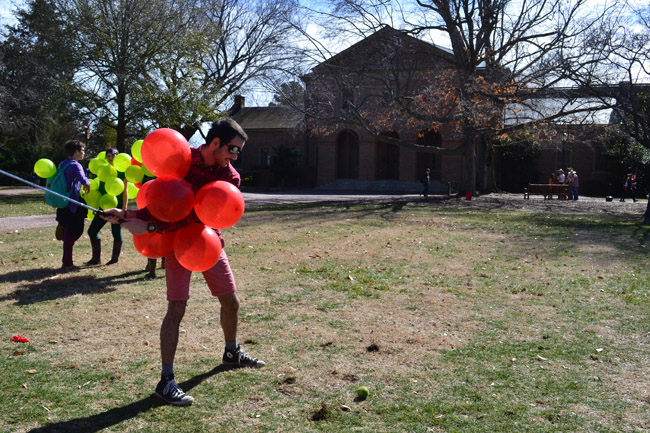 Drew Carey wasn't standing in the limelight, but the adage held true. Everything was made up and the points didn't matter as members of The Flat Hat took to the Sunken Garden Saturday afternoon.
With News editors Annie Curran '16 and Abby Boyle '15 questioning whose line it was (anyway), up-and-coming Variety editor Aine Cain '16 was determined to upset the Sports section's recent stranglehold on the event.
"I'm not going to lie, I was a bit intimidated by the Sports Desk," Cain said. "Abby Boyle, Stevie Nicks and my sister really helped motivate me for this."
With Boyle coaching in one ear and a playlist of all-time greatest hits playing in the other, Cain hit a golf ball about as far as anyone can with a too-short golf club and won the match in a landslide.
"I broke the chain of Sports supremacy," Cain said. "It's a dream and I'm never going back again. I don't want to know what the Sports Section has to say about this."
Current Sports Desk Editors Jack Powers '15 and Chris Weber '15 declined to comment on anything other than their Hawaiian shirts. Powers found a deal at GoodWill.
"I was a big fan of the Sports Desk's shirts," Boyle said. "I thought it was creative and representative of their personalities in a way that other clothing may not have been. The only thing I can compare my love of these to is Taylor Swift."
With Cain literally running through the course, the rest of the field languidly worked though a sporadic, uneven and terrible round of golf.
"Every year I know The Flat Hat is a team I have to prepare for. They wore me out — by the end of the day, I lost my voice and my bones ached," caddy Ariel Cohen '14 said. "They were committed to the game, but they were miserable. Some of them didn't even know how to hold a club."
A gaggle of associates and some guys no one knew eagerly followed Curran through the course. The only player with golfing experience, Curran was the odds-on favorite.
"Every time I went to hit the ball, I was distracted by the Sports Desk's dazzling, florid shirts," Curran said. "I choked. Counselor Tom at Pine Crest Summer Golf Camp for elementary school kids would've been disappointed."
Curran wasn't the only one to fall apart down the stretch. Current Managing editor and incoming Editor-in-Chief Meredith Ramey spent more time ignoring warnings from multiple caddies than attempting anything resembling golf.
"She literally ruined 500 years of golf history in 15 minutes," Online editor Zachary Frank said. "Who let her onto the course? Honestly, wasn't there an application to play? No? There should have been. No respect for the game. None."
After multiple attempts to contact her, Ramey refused to comment on her dismal performance.
Katherine Chiglinsky '14 and Jared Foretek '14 ended their collegiate Campus Golf careers Saturday. Legends in their own right, Chiglinsky and Foretek — alongside Cohen, April Smith '14 and Rebecca Marshall '14 — leave behind a tradition of excellence.
"I don't think I could ever match the talent and nuanced skill of the seniors," Executive editor Ellen Wexler '15 said. "I wish our theme was Wuthering Heights instead."
Chiglinsky left the course only after delivering a gut-wrenching speech.
"Stabilitas et fides, y'all."