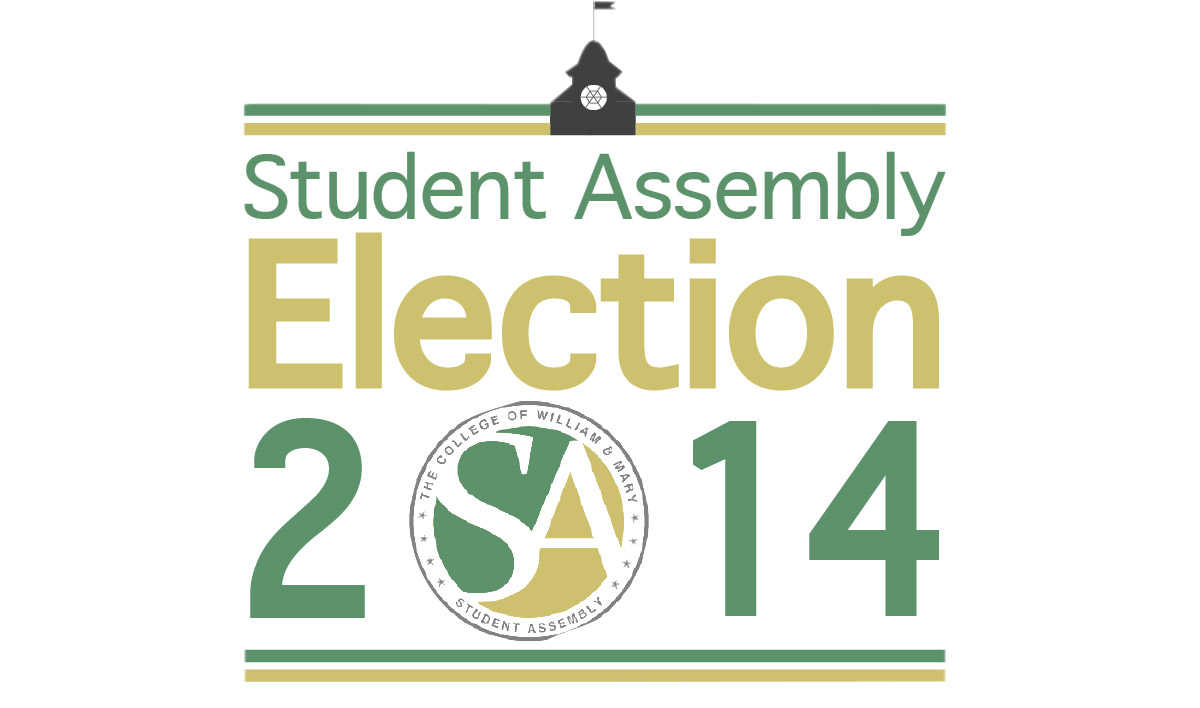 As spring break ends, campaigns are starting to rev up heading into this year's Student Assembly election season.
The race begins  Tuesday, March 11 at 12:01 a.m.  and campaigning will continue until election day, March 20. Three candidate pairs are running for president and vice-president for the 2014-2015 academic year.
The candidates, all members of the Class of 2015, are Trevor Parkes and Liz Hernandez, Colin Danly and Kendall Lorenzen, and Carlton Smith and Christopher Johnson.
Parkes currently serves as the Secretary of College Policy in the SA executive cabinet. He is also the former president of the Interfraternity Council. Hernandez has not been involved with the SA in the past, but is a Multicultural Recruitment Intern for Undergraduate Admission and a Development Ambassador at the College. The two met in a class on environmental governance their freshman year.
Parkes and Hernandez are looking to focus on the College's relations with the city of Williamsburg. They also hope to give more power to the Undergraduate Council. Additionally, the pair aims to improve the transparency of the SA and to make themselves available to students.
"We wouldn't be the Student Assembly president and vice president — we would just be students with your best interest in mind," Parkes said.
The next ticket consists of Danly and Lorenzen, who have both worked in the SA over the course of their College careers. Danly serves as a senator for the class of 2015 and as Chairman of the Finance and Budget Committee. At the moment, Lorenzen is Secretary of Outreach in the executive cabinet and has been involved with the SA since her freshman year.
Danly and Lorenzen, who met through their involvement with the SA, are working off of a mission statement highlighting collaboration, innovation and empowerment. The two want to engage more students and organizations with the SA and use technology to reach out to and inform students.
"We hope by the time of our administration, the assembly is a little more collaborative, a little more innovative and a lot more empowering to student organizations," Danly said.
The last candidate pair consists of Smith and Johnson, who met through the Center for Student Diversity's PLUS program during their freshman year. Smith has served as the Vice President of Advocacy for the class of 2015 for the past three years. Johnson has not been involved with the SA in the past, but is involved with the Honor Council and served as the vice president of the Black Student Association.
Both Smith and Johnson emphasize the importance of mental health and safety on campus. They also want to involve more students from other student organizations.
"I just want to be a voice for the voiceless on campus," Johnson said. "If we had a more productive way for students to voice their views … that would be perfect for this campus."
In the race for Senate positions, incumbents Chase Jordan and James Walker will run alongside newcomers Tyler Brent, Michael Payne, Nadia Ilunga, Tyler Kennedy and Kevin Lee for four senate seats for the Class of 2015.
Incumbents Seth Opoku-Yeboah, Daniel Ackerman, Yohance Whitaker and Gabriel Morey, as well as Michelle Tansey, will run for four open senate positions for the Class of 2016.
A total of nine candidates will run for the Class of 2017's four senate seats.  Incumbants Emily Thomas, Kelvin Abrokwa-Johnson and Shannon Caietti will run alongside Eboni Brown, Nick Lee, Elliott Theuerkauf, Connor Mills, Jan LaRiviere and Giselle Tirado.
In the Class of 2015 Undergraduate Council race, Alexandria "Joe" Foster will run unopposed for president  as current senator Daniel Kennedy  runs unopposed for vice president. Kameron Melton will run an uncontested campaign for secretary. No student has announced intentions to run for Class of 2015 treasurer.
Mark Bland '16 and Yousif Al-Amin will run forpresident of the Class of 2016 Undergraduate Council. Caroline Ramirez-Gaston, Brian Garland and Nate Palmer will run for Class of 2016 vice president. Incumbent Quetzabel Benavides will run unopposed for secretary, while Julian Kabat will run unopposed for treasurer.
In the Class of 2017 Undergraduate Council race, incumbent Phoebe Galt will rununcontested for president, as incumbent John Yoest is runs unopposed for vice president. Incumbent Emily Heathwill run uncontested for secretary and incumbent Giorgio Caterini will run unopposed for treasurer.
Check back with The Flat Hat for updates on the election.