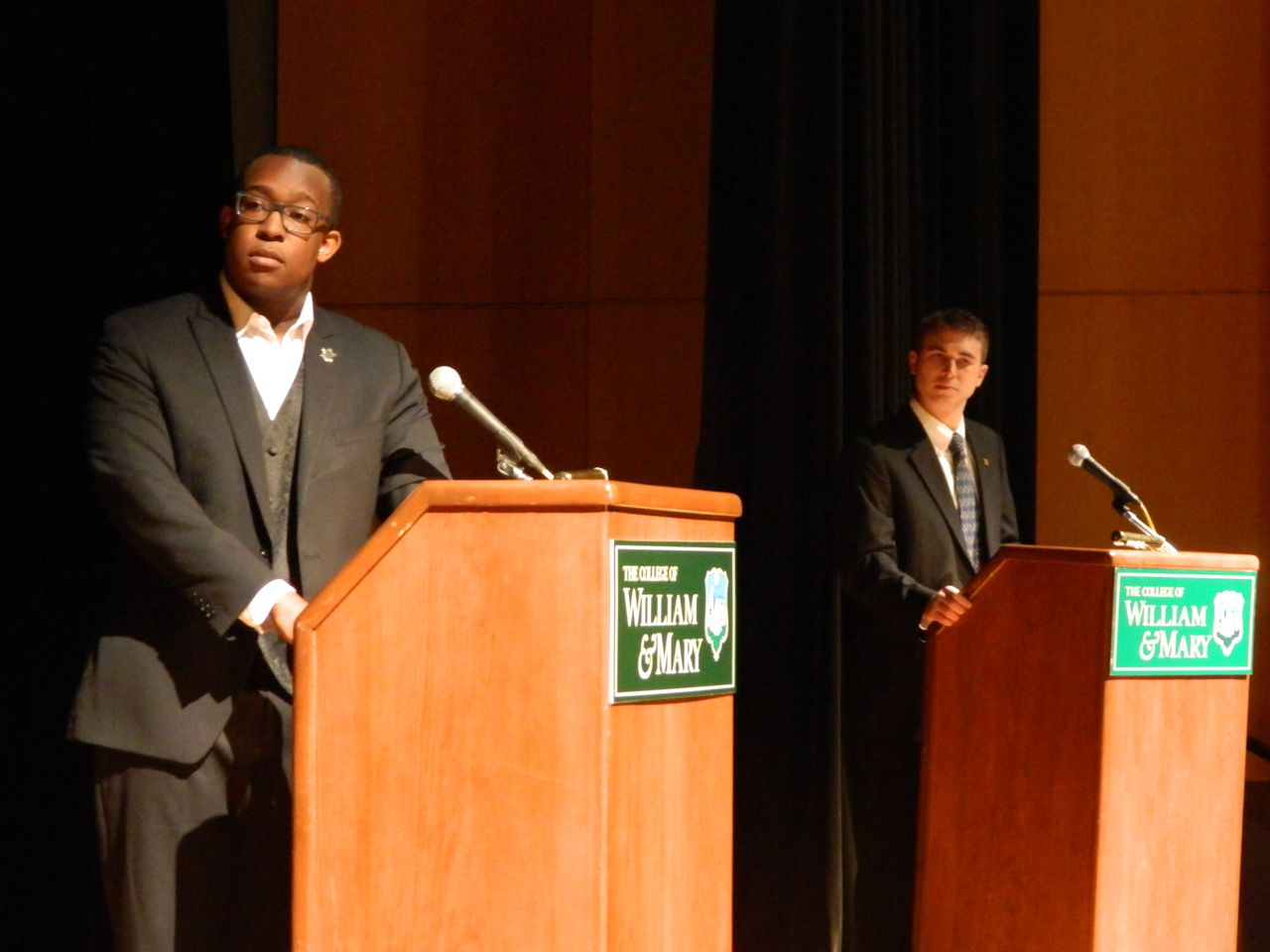 To kick off the week leading up to Student Assembly elections, presidential candidates Colin Danly '15, Carlton Smith '15 and Trevor Parkes '15 participated in a formal debate Monday in Commonwealth Auditorium.
The candidates spoke on the most pressing issues they feel the College of William and Mary faces. Multiculturalism and student diversity were topics that all three candidates addressed.
Smith, whose platform focuses on diversity, said he hopes to bring more multicultural speakers like Maya Angelou and the Dalai Lama to the College, as well as to create a council of student multicultural leaders to address the campus community.
Parkes advocated a similar group designed to bring ideas on diversity to the SA, while Danly proposed a more top-down measure.
"I think diverse communities start with [their] government," Danly said. "We want to make sure we have our applications for both secretaries and undersecretaries open to the whole campus and then we would reach out to these multicultural organizations and encourage them to apply."
The presidential candidates also agreed universally that the College's health services — both physical and mental — need to be emphasized and improved to better address students' needs. All three candidates said if they could only increase SA funding to one program on campus, it would be a health-related program.
Parkes brought up the need for SA subsidies for flu shots and off-campus doctor visits, and Danly said he wants the SA to begin providing students with free STI testing again. Smith expressed concern for students who withdraw from the College for reasons of mental health and have a difficult time coming back, and named this as one of the problems he would address, as well as general advocacy for the Counseling Center.
"The biggest weakness here at William and Mary is their mental health policy and the publicizing of the Counseling Center and the services they have to offer," Smith said.
Campus safety — in light of the controversy caused over the Sigma Chi email — was also discussed. Smith endorsed stronger sanctions for fraternity chapters that do not adhere to proper conduct. Danly spoke of training student organizations to have effective conversations to promote "deliberate democracy."
Parkes suggested that this sort of training be expanded to include faculty members.
"There was a report put out by the school, a survey where students were asked who they go to when having trouble after sexual assault," Parkes said. "After peers, in second place came faculty, yet faculty receive no formal training at all in how to handle these issues."
Another idea Parkes promoted was TWAMPstart, a program designed to link student business ideas with local investors. He also proposed advocating for students within the context of the greater community by negotiating the punishment for noise violations and the three-person rule for off-campus housing.
Danly plans to promote the College's relationship with the community through greater communication and collaboration.
"One way [to continue improving town-gown relations] is to have a meeting of the minds between the SA leadership and the city council leadership as we have done in the past," Danly said. "The way we do that is by having real issues to talk about, instead of just people talking over each other."
All three candidates agreed to make an effort to develop the SA's relationship with the College's administration, as well as continue to actively reach out to students via "coffee talks," email, social media and campus events.