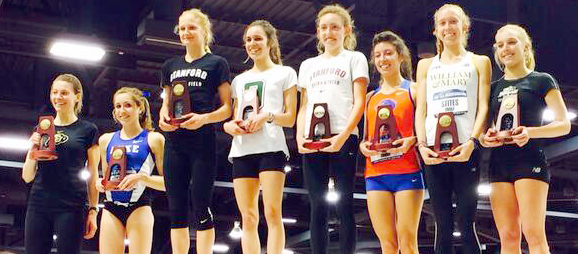 William and Mary sent two of the fastest runners in program history to compete at the highest level this weekend.
At the National Collegiate Athletic Association Indoor Track and Field Championships in Albuquerque, New Mexico, Senior Elaina Balouris and sophomore Emily Stites placed among a field of the country's elite runners Friday.
Balouris and Stites competed in the 5000-meter final. Stites finished in sixth place at 16 minutes and 27 seconds. Balouris crossed the line 14th with a time of 17:05.30.
For the majority of the race, Stites and Balouris ran in the middle of the pack. In the last 800 meters, however, Stites picked up her speed to finish in sixth place. Stites finished just seven seconds behind Dartmouth senior Abbey D'Agostino, who claimed her second straight indoor national championship. With her finishing spot, Stites managed to score three points for the Tribe, the most ever for the program at a national indoor championship. As a team, the Tribe finished in 25th of the 34 scoring teams.
Stites is the youngest athlete from the Tribe to compete at the national level and was seeded third overall. Stites earned an All-American honor as a result of competing in the championships. The honor adds to her title from the cross-country season, which includes winning the Southeast Region Championships and earning a CAA Athlete of the Year distinction.
Stites was the youngest runner to finish in the top six. Four of the five runners who finished ahead of her are graduating seniors.
Balouris was seeded sixth overall and earned her fifth All-American honor. Balouris and Stites competed against participants from the top programs in the country. Stanford placed two runners in the top three, which helped it claim the overall title with 22 points.
The spring season begins in earnest this weekend, as the Tribe hosts the Tribe Invitational at Zable Stadium and the Stimson throwing area. The event annually brings in dozens of programs from across the region. Stites and Balouris are unlikely to compete in the meet.
If Balouris makes the NCAA Championship this outdoor track season, she will become the most decorated athlete in school history.