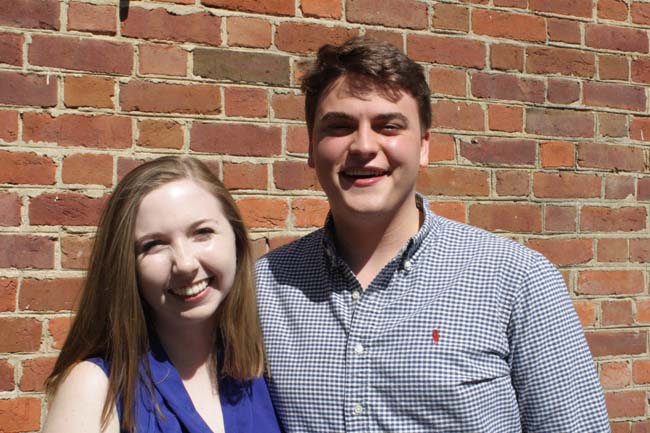 Students of the College of William and Mary will be faced with a difficult choice on Thursday — who to elect as Student Assembly president and vice president. Among three strong candidate pairs, Colin Danly '15 and Kendall Lorenzen '15 have the necessary experience, institutional knowledge and realistic ideas to move the SA forward.
Serving on the SA Outreach, Policy and Code Revisions Committees, as well as Chair of the Finance committee, Danly has made the SA work better for students. He sponsored the "Know Your Rights Acquisition Act" which funded and distributed thousands of Know Your Rights cards to students. He also sponsored the New Organization Funding Act to help new student organizations apply for funding. Less known among students is Danly's work on the Code Revisions Committee to streamline SA code — a much needed reform.
Lorenzen's work as Chair of the Senate and Secretary of Outreach shows that she is ready to lead as SA vice president. She was largely responsible for Tribe Rides, the SA initiative to transport students to counseling sessions off campus. Encouraging graduate students to play a more active role in the SA, she supported the Student Development Act, a bill to give graduate students a say in the budgeting process. She also played an integral role in the SA's subsidization of STI testing, and both she and Danly helped improve communication between the SA and Student Health Center.
As high-ranking members, Danly and Lorenzen have a strong working knowledge of the SA. This will shorten their acclimation period after  the transition between administrations, allowing them to take action in the first month or so when newly elected presidents and vice presidents are often less productive. That knowledge will also help them more successfully implement their ideas and improve communication within the SA.
Danly and Lorenzen's ideas emphasize building connections between students, faculty, administrators and the SA. They plan to use the Department of Outreach to train student connectors who will advise student organizations. They will improve the SA website, allowing students to contribute ideas directly. Following the theme of open communication, they want to partner with the Office of Community Engagement and hold civil discourse seminars on sensitive topics. They also want to hold more coffee talks with faculty and administrators to promote stronger relationships between students, faculty and administrators. Similarly, they want to bring together student leaders for leadership summits, fostering connections between diverse student organizations. We also support their plan to hold event days for different student cultural organizations on campus, as well as their plan to integrate the SA into the freshman orientation process. If the SA engages students early in their college careers, it could reduce apathy later on.
We are confident in Danly and Lorenzen's ability to confront next year's challenges. With their combined experience, knowledge and strong emphasis on connection, they will bring competence and credibility to the SA.