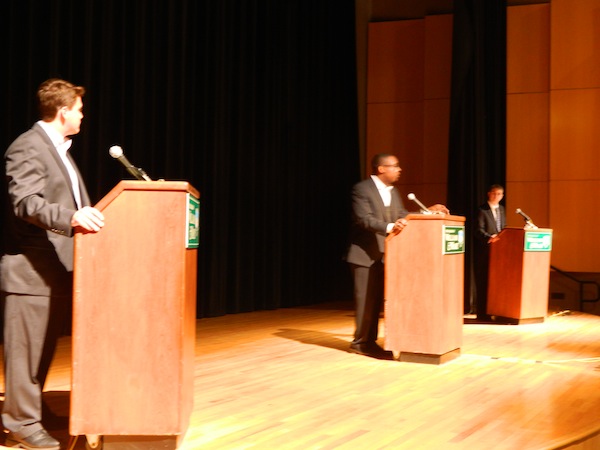 Tuesday's debate allowed candidates to clarify their platforms and discuss campus issues with audience members. Read more about the platforms and the debate here.
Debate
To kick off the week leading up to Student Assembly elections, presidential candidates Colin Danly '15, Carlton Smith '15 and Trevor Parkes '15 participated in a formal debate Monday in Commonwealth Auditorium.
Danly and Lorenzen
Even after a week of campaigning, Colin Danly '15 and Kendall Lorenzen '15 are still eager to discuss their platform and explain their plans to improve the College of William and Mary if they are elected the next SA president and vice president.
Parkes and Hernandez
With "Listening to You" campaign posters scattered around the College of William and Mary campus, a Kickstarter initiative  called "TWAMPstart" released through social media platforms, and one week of talking to student groups complete, Trevor Parkes '15 and Liz Hernandez '15 are in the midst of running to become president and vice president of the Student Assembly next year.
Smith and Johnson
In the summer of 2011, Carlton Smith '15 and Christopher Johnson '15 both attended the "Preparing for Life as a University Student" program before beginning their careers as freshmen at the College of William and Mary.