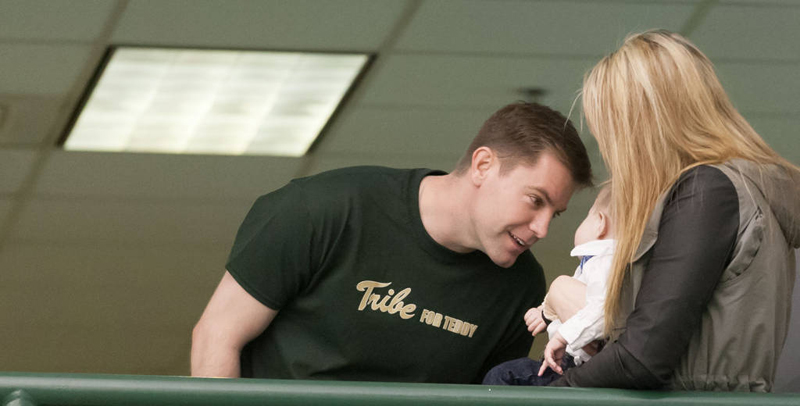 Teddy Fish wore a white shirt, blue bowtie and, for the most part, slept.
Alex Fish '06 leaned against the cinderblock wall at the McCormack-Nagelsen Tennis Center, alternating between shaking hands and watching William and Mary play Sunday morning. Mary Fish '07 proudly held Teddy, snapping photos and taking in the scene.
If not for a hundred "Tribe for Teddy" t-shirts and a scoreboard that read "Once a part of the Tribe, always a part of the Tribe," the Fish family wouldn't have appeared all that different from any other young family taking in their alma mater's tennis program.
If not for Teddy's diagnosis, this wouldn't have been a story.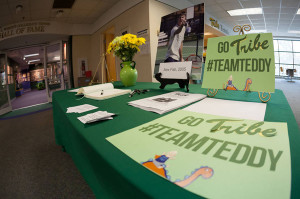 Whether paid professionals or college students slaving away in a dusty basement four days a week, journalists look for content that attracts readers and justifies the effort behind production. The story of a married couple revisiting Williamsburg with their 11-month-old son doesn't fit those criteria.
Like many stories, the story of Teddy Fish has a twist. Unlike most stories, this twist doesn't wrap up the story neatly. Teddy suffers from Menkes disease, characterized by deficient copper levels and no known cure.
Children diagnosed with a typical case don't survive past age three. Teddy has a typical case.
Now it's a story. Add in details like the outstanding social media presence of Teddy's cause and men's tennis head coach Peter Daub's attendance at the Fish wedding and the story becomes compelling.
Daub organized the "Tribe for Teddy" event in hopes of raising awareness of Menkes disease and showing support for Alex Fish, his former player. Now the story has a platform, an end goal.
From an editor's desk, this story wrote itself. All the elements were present, and they fell in line more neatly than a box score. A little crafting here and there and the story would be ready to print. Easy.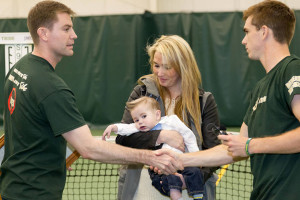 Then something happened and the story became something more than a story. It was more than Teddy's fight with Menkes and it was more than Alex Fish returning to the program that he helped win the 2005 Colonial Athletic Association championship.
Sifting through the details became a little tougher — a simple analytical approach wouldn't cut it. It's one thing to cover Tribe sporting events dispassionately from a press box or cold bleacher, but it's something entirely different to write a piece on a kid you've only ever heard cry over the phone.
That's the crux of journalistic problems. To report requires analysis, unbiased coverage and a shrewdness to cut through to find what matters. It's impossible to remain cold, to stay aloof of the emotion surrounding Teddy's story.
Turning a player into a statistic is commonplace. Highlighting an athlete for his or her latest accolades is routine; ignoring the individual is second nature. Teddy didn't fit these habits.
The story was written and printed. Copies were delivered to McCormack-Nagelsen, coming in after the caterers and before the crowd. Volunteers found their stations and longtime play-by-play announcer Jay Colley started off the event.
All the right people said all the right things. We proudly hailed by the dawn's early light and the doubles began. Teddy was in his mother's arms, standing among family and friends by the cinderblock wall.
Having written the story, having memorized the story and having it run through my mind, I wasn't sure if I wanted to meet the Fish family. I knew them as words on a page and a voice over the phone. That was enough. That was what was needed for the story.
This was more than a story, I reminded myself. This wasn't a time where an athlete could turn into a line of text. This wasn't a situation where a name becomes a preceding clause before an overused cliché.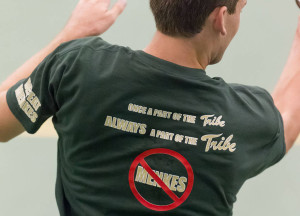 This was clear. This was Teddy; this was a community showing its proud support. This was something human and tangible.
I waited until after doubles, after the College had virtually guaranteed itself the win, before approaching Alex and Mary Fish. I shook hands with them and introduced myself as the one who wrote the story. That's all I wanted and all I had in mind.
I wanted to keep Mary and Alex Fish from turning into words on a page. I knew Teddy would not — I knew that Teddy would remain more than just his story.
It's clear in my mind. Alex Fish standing alongside the cinderblock wall. Mary Fish glancing at their son. Teddy Fish lying in the stroller, in a white shirt and blue bowtie.
This was more than a story. This was a story worth telling for all the right reasons.