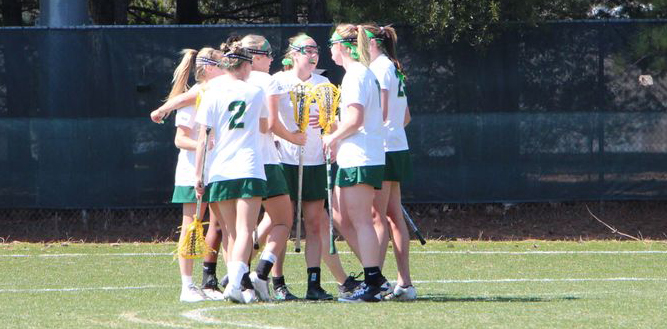 In only its second road contest of the season, William and Mary dropped to 1-7 on the season in a 13-7 loss to Richmond (4-3) Friday night. The game marked the third game in seven days for the Tribe.
The College competed well early in the contest, scoring first with a goal by senior midfielder Taelor Salmon. Twelve minutes into the half, the Tribe held a 4-3 lead on the Spiders. However, Richmond regained momentum with a 6-0 run to end the half with a 9-4 lead. The Spiders racked up 16 shots during the first half against the College's six.
The Tribe came back strong in the second half with a 3-1 run off goals by junior midfielder Ellen Shaffrey, junior attacker Kaleigh Noon, and Salmon to bring the score to 10-7 with over 15 minutes left in the game. The draw control battle was evenly matched at 11, meaning each team had equal possession in the competitive matchup. However, Richmond dominated down the stretch with a 3-0 run to seal the victory for the Spiders at 13-7.
Richmond capitalized on College penalties, scoring on four of its five free position shots. The Tribe managed to score on only one of its free position shots. The ability to turn penalties into points continues to be an area of inconsistency for the team.
Although the Tribe's defense again succeeded in forcing 14 turnovers, the team as a whole still struggled with ball control, giving up possession 16 times. The past week has seen turnovers remain a major hindrance to the Tribe, as it also gave up 16 against Albany.
Salmon now leads the team with 11 goals. Noon, Shaffrey, freshman midfielder MC Curren, senior defender Hannah Clarke and junior attack Alexi Farmakis also scored. The College's attack continues to be a threat with a wide variety of players scoring in each contest. This multi-faceted offense bodes well for the Tribe's conference matchups later this season.
Up next is a home contest at Martin Family Stadium against Longwood (2-5) at 3 p.m. today.