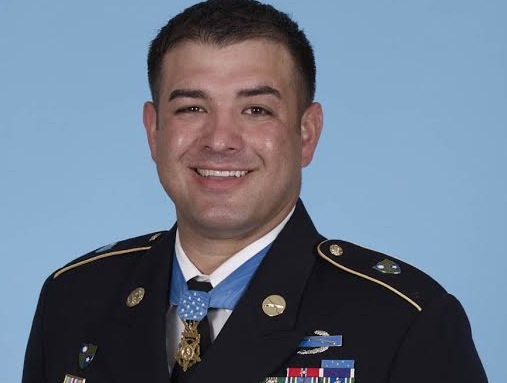 In July 2011, Sergeant First Class Leroy Petry was awarded the United States Armed Forces' highest decoration — the Medal of Honor — for his actions in a May 2008 tour of Afghanistan. Three years later, Petry will address the College of William and Mary's Class of 2014 at their Commencement ceremony May 11 in Kaplan Arena.
Since joining the U.S. Army in 1999, Petry has served two tours in Iraq and six in Afghanistan. In May 2008, he was with two other Rangers in a Paktia, Afghanistan courtyard when the three heard a grenade explode nearby. Turning to see another grenade sitting on the ground between them, Petry reached for it. The grenade exploded as Petry threw it, severing his right hand. When medical help arrived, Petry ensured the others received attention before being treated for his injuries.
"Sgt. Petry brings a powerful story of commitment, loyalty and resiliency that is truly inspiring," College President Taylor Reveley said in a press release. "We are very fortunate to have him join us for Commencement and share his story with our graduates."
Petry re-enlisted in 2010 after receiving a prosthesis. He is one of two Medal of Honor recipients in any branch of service still in active duty.
Petry now serves as a liaison officer for the Special Operations Command Care Coalition, working with wounded soldiers and their families.
"As William and Mary students, we are committed to serving others regardless of the paths we take after graduation," Student Assembly President Chase Koontz '14 said in a press release. "As a Medal of Honor recipient and one of only two to re-enlist in active duty, his commitment to a life of service and his actions of heroic self-sacrifice are truly inspirational."
Petry will receive an honorary degree at the ceremony, along with Alan B. Miller '58, Chairman and CEO of Universal Health Services. U.S. Supreme Court Justice Antonin Scalia will also speak briefly at the ceremony and will deliver the Marshall-Wythe School of Law School's graduation address. Chancellor and former U.S. Secretary of Defense Robert Gates '65 will also offer his remarks to the Class of 2014.
Miller founded Universal Health Services in 1978 and has garnered recognition for his work. In 1999, he received the first Lifetime Achievement Award from the Federation of American Health Systems.
He has also been included among Modern Healthcare's "100 Most Powerful People in Healthcare." Miller is the namesake for the Mason School of Business' Miller Hall.
Scalia is the longest-serving justice currently on the U.S. Supreme Court, having served since 1986. William and Mary News reported that Scalia previously visited the College in 2004, when he spoke to about 1,200 people gathered at William and Mary Hall.
"We are also delighted to honor one of our most accomplished alumni, Alan Miller, whose success in the business world has few peers," Reveley said. "It will be grand as well that Chancellor Gates and Justice Scalia will have words of greeting and congratulations for the Class of 2014 graduates. This will be a wonderful day."