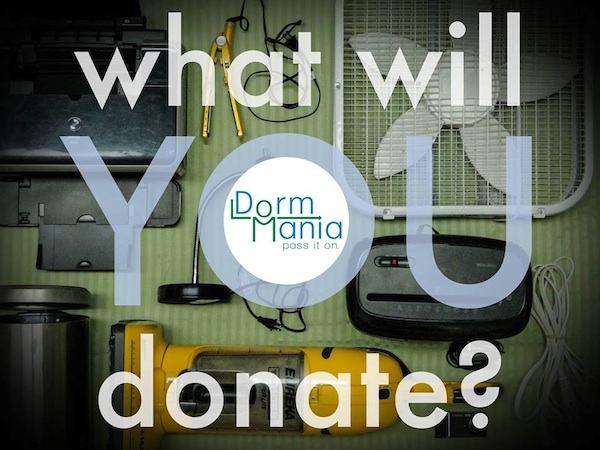 While many students at the College of William and Mary see spring move-out as an occasion to purge their dorm rooms of all that has accumulated throughout the semester, Audrey Kriva '17 sees an opportunity for a sustainability initiative.
Kriva's project, "Dorm Mania" will allow students to donate items they would otherwise throw out — such as books, used appliances, electronics, decorations and non-upholstered furniture — to be stored over the summer and sold during move-in next fall.
The idea for Dorm Mania struck Kriva last fall at a climate change conference. She was inspired by a similar project executed by the University of New Hampshire. The group formed a non-profit organization to help implement programs like theirs on other campus.
"They have this motto that I really like, that goes, 'waste is just a logistics problem,'" Kriva said. "I think that's really cool because it kind of puts everything in perspective in that there's nothing unachievable about it; it just needs to be a better-organized system."
After talking about the idea at a Student Environmental Action Coalition recycling meeting with outgoing facilitator Eric Dale '14, Kriva brought the idea to various members of the College's administration. As a member of the Sharpe Community Scholars program, she decided to realize Dorm Mania as the final project for her Sharpe class on Civic Engagement in Higher Education.
Dorm Mania may sound like déjà vu for students who are already familiar with SEAC's Campus Free Market. Dale, who both played a leading role in the development of the Free Market and is a member of Dorm Mania's executive council, said that although the projects have similar goals, there is little overlap between their methods.
"The campus free market is much smaller-scale, and obviously it's free," Dale said.
"Dorm Mania is so much larger that it will be more effective in getting a huge push for donations at the end and then re-dispersing them all at the beginning of the semester."
The Free Market also runs year-round and accepts clothing donations. Dorm Mania, however, will donate clothes to FISH, since Kriva and Dale do not expect students to be shopping for clothes at the yard sale during move-in. Since the storage unit is not climate controlled, upholstered furniture will be donated to Habitat for Humanity.
Kriva noted that there are advantages to working on a university campus as opposed to other types of communities.
"A university, because of its scale, has this unique ability to organize its flow of things," she said. "A neighborhood has all these different families, and you can't get them to put all their stuff in the same place; they're all individualized, but universities? They have all of this power to make things flow smoothly, so this is sort of one small step in that direction."
Kriva's advisor, Assistant Vice President for Student Engagement and Leadership and Office of Community Engagement Director Drew Stelljes, oversaw the project but left the legwork to Kriva in order to give her leadership experience.
"This project can emerge as a model for campus partnerships," Stelljes said in an email. "As a result of hard work and determination, the project is ready for implementation."
With a Green Fee grant from the Committee on Sustainability and additional funding from the Office of Community Engagement, Dorm Mania will launch this finals season. Boxes for donations will be set up during exams period in dorms and other locations around campus. Donation tents will be located in Botetourt, the Randolph Complex, the Green and Gold Village, Ludwell and the Bryan Complex from May 1-7 from 12 p.m. to 6 p.m.
Editor's note: Audrey Kriva is a Flat Hat photographer