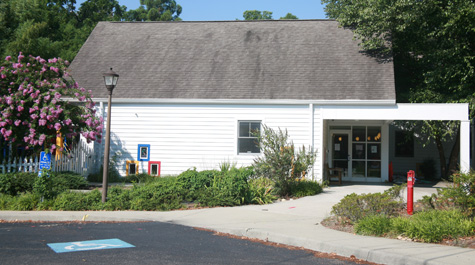 The College of William and Mary's Mason School of Business's Entrepreneurship Field Consultancy Program is currently in its tenth year of operation. Every semester, 16 second-year MBA students, 16 BBA undergraduates and three third-year law students team up to solve a few problems. Some of these projects have included clients from both the College community and far-reaching companies and are real-life scenarios for students to resolve.
"I think it's a neat program," Managing Director for the Alan B. Miller Center for Entrepreneurship Program Ron Monark said. "The assumption is that most of these students will work in business, so the more they can see business profits and understand how to professionally solve these problems, the better."
One of the most recent projects was an analysis conducted by Jacob Ommen MBA '14, Alyssa Smith MBA '14 and Jordan Pischke J.D.  '14 on the Sarah Ives Gore Child Care Center, which is operated by Williamsburg Campus Child Care.
"Our overall goal was to reduce costs for the child care center. Costs are fairly straightforward and they translate directly into the cost of care for the children," Ommen said. "We wanted to see where we could reduce the cost burden without impacting the quality of care. You have to be careful when you look at cost reductions, because theoretically the more you spend, the better the environment is supposed to be for the child."
A donation by alumna and former Board of Visitors member Sarah Ives Gore '56 provided for the construction of the child care building in the early 1990s, meeting a great need for College faculty and staff. Since then, WCCC has grown, and while it primarily serves the College community, some families in the Williamsburg area also send their children to the center.
"This study came to be out of a discussion with the Board of Directors in terms of, 'Where are we compared to the greater Williamsburg child care market?'"   Associate Director of Auxiliary Services John Byxbe said. "We have this great resource through the entrepreneurial center, so why not use it? Since the study was completed, there has been a strong commitment from staff based on their tenure and the benefits being offered. It is performing at a very high level."
WCCC is technically considered an auxiliary service on campus, designated as a service which primarily serves students, faculty and staff at the College. Auxiliary Services itself is a department that is comprised of multiple lines of business, including the I.D. office, dining services and the copy center. Some of these services are operated in-house and are self-operated while others have contracted partnerships. WCCC is a nonprofit organization operating in the Gore Child Care Center.
"Last year we were looking at providing a few more benefits for employees and realized there were budget constraints, so we needed to take a hard look at operations," President of the WCCC Board of Directors  and Assistant to the President and Provost Jeremy Martin said. "We wanted to do even better for staff and ensure WCCC was run as efficiently as possible."
Through his contact at Auxiliary Services, Byxby, and his previous experiences working with Monark, Martin elected the Business School to complete the analysis of the WCCC's finances.
The relationship between Auxiliary Services and the Field Consultancy Program began a few years ago when students from the Business School conducted a feasibility study for the McCormack-Nagelsen Tennis Center.
"This is a wonderful opportunity to both give students real world experience as well as to leverage our internal resources as an institution to look at efficiencies and new opportunities," Byxby said. "Auxiliary services worked with Ron to really develop case studies that look at our various lines of business to look for areas we could enhance and strategically grow."
Overall, the administration said that it was extremely pleased with the analysis and could not be more proud of the work currently being done to save costs at the WCCC.
"We were thrilled by the work [the students] did because they helped us save a few hundred dollars here and there, but they also just confirmed the high quality of care at WCCC," Martin said. "We discovered we are actually doing relatively well on compensation and employee benefits and just want to continue to give [employees] incentives to stay."
Martin's own daughter attended kindergarten at the WCCC.
"My daughter loved it there and had a fabulous experience with the teachers," Martin said. "They go down to Colonial Williamsburg, play in [the] Sunken Garden, and walk to the library. To my knowledge, WCCC is the only center that offers opportunities like those. As parents, my wife and I were thrilled with the experience there. It is a really great resource for the community."
Aside from field trips and numerous educational opportunities, the child care center also provides hot meals, yoga and many other special activity classes, and even allows parents and volunteers to join in classroom activities.
For Ommen, however, there's one thing about WCCC that particularly stands out.
"What really impressed us the most was the tenure of the faculty. It is almost double compared to other child care centers," Ommen said. "Teachers have been there a long time, and all the studies we looked at showed the faculty tenure is a huge indicator of quality in child care, so we wanted to propose ideas that could continue to foster tenure and incentivize employees to stay on."
The Entrepreneurship Field Consultancy Program is not the same as simple case analysis. Instead, it utilizes real problems with real companies and businesses to help Mason School of Business students gain real world experience in their chosen fields. Other recent projects included devising wireless consulting company business plans, looking at future business prospects for a company that provides due diligence for banks who are lending on commercial properties, and reorganizing a company in Hampton that makes items for very specific purposesin order to maximize profitability.