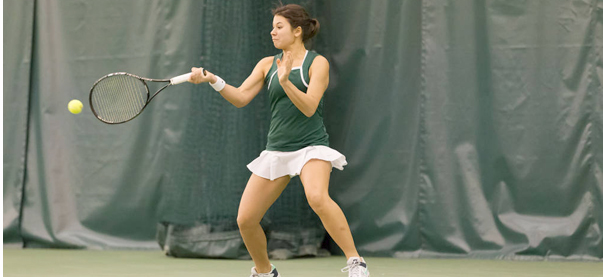 A once-promising season marred by injuries ended Saturday afternoon at the Millie West Tennis Facility in a semifinal match of the Colonial Athletic Association Tournament. One year after claiming the CAA crown, third-seeded William and Mary fell 4-0 to second-seeded College of Charleston.
Friday evening, the Tribe came back from losing the doubles point against sixth-seeded Drexel. Senior Maria Belaya, sophomore Leeza Nemchinov, freshman Melanie Roy, and freshman Nabila Farah won their singles matches to give the College the victory and a spot in the semifinals. Belaya's performance was especially encouraging for Tribe fans, as she won in straight sets 6-3, 6-2 at the No. 1 spot. The Tribe's quarterfinal victory came after a dispiriting eight-match losing streak. The win sparked a hope that the reigning champions might be able to pull it together for the tournament.
Those hopes were quickly put to rest. The Tribe found little success the following day against the higher-seeded Cougars. Nemchinov and sophomore Julia Casselbury won their doubles match over Samantha Maddox and Jamie Harrell — their only win all season as a doubles pairing — but the Cougars won each of the other two doubles matches to capture the first point.
Already facing a deficit, the Tribe looked overmatched during singles play. Belaya, Roy, and Farah were dispatched in straight sets by their opponents as Charleston advanced to the tournament final. Senior Sydney Smith, Casselbury, and Nemchinov did not finish their matches since the Cougars had already reached the requisite four points to claim the event. Only Nemchinov won a single set by the time the action was called.
In a matchup between two All-CAA first team selections, Belaya struggled to compete with Charleston's Kelly Kambourelis. After winning the CAA Player of the Year award last year, Belaya's season started strong in the fall but has been plagued by nagging injuries for most of the spring season. Kambourelis downed Belaya relatively easily Saturday afternoon, winning 6-4, 6-2.
Saturday's match marked the end of Belaya's distinguished career for the Tribe.
Although they dominated the Tribe Saturday, Charleston fell in a close match to top-seeded North Carolina-Wilmington 4-3 in the championship. With the season complete, the College awaits the start of next season.
The Tribe finishes its season with a 4-15 record.