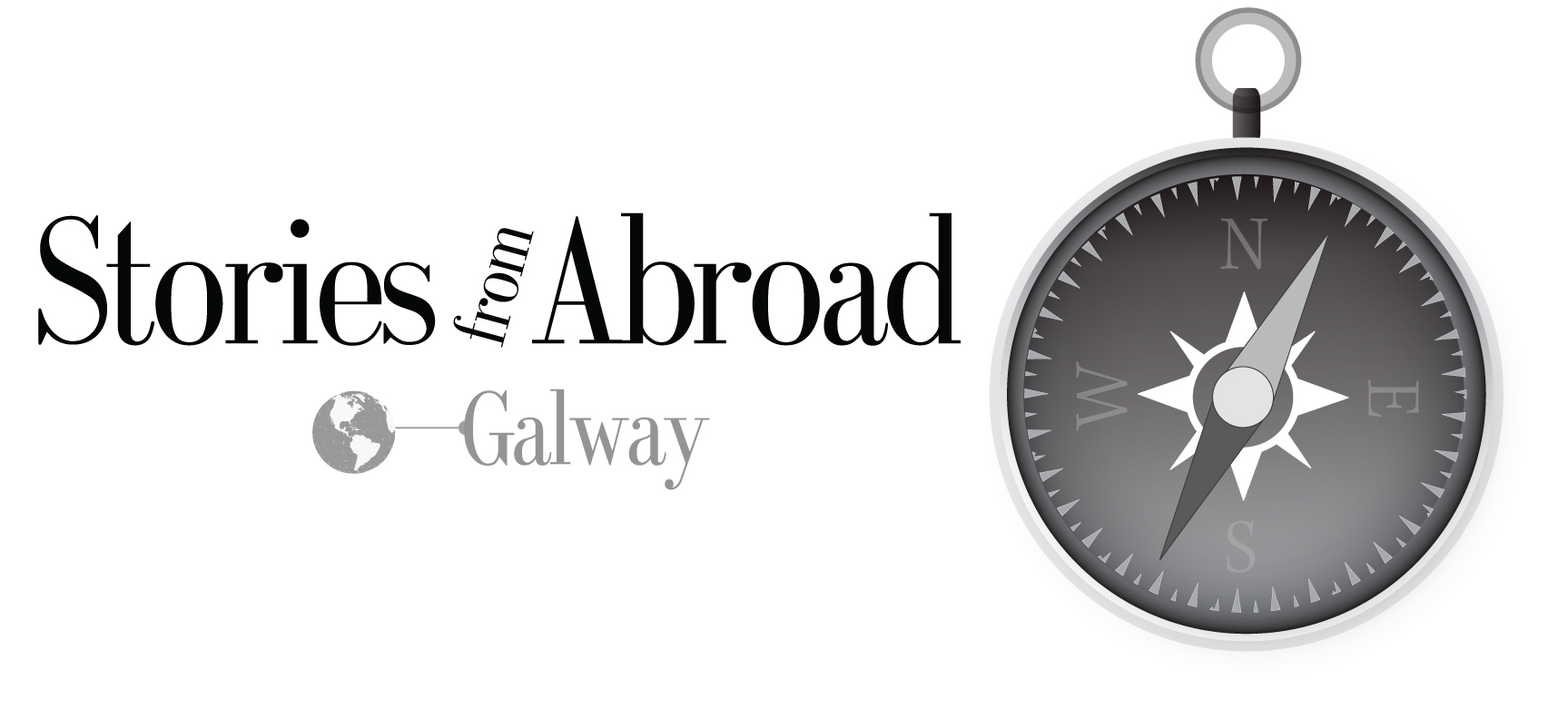 I spent my Saturday jumping off cliffs.
It was our free weekend and many different excursions had been discussed. Options like Northern Ireland, County Cork and even a "totally random" trip to Norway were thrown around. While some eventually opted for a music festival in Dublin or a quick trip to London, a group of six students decided to be adventurous and go coasteering.
What is coasteering? According to the company we used, Real Adventures Connemara, coasteering is "a fairly new adventure sport that has become extremely popular throughout Europe and the UK and is increasingly popular in Ireland…Coasteering is a mixture of adventure swimming, climbing, scrambling, jumping and traversing the coastline."
We hopped on a bus from Galway and headed to Clifden in Connemara. If you have never seen the wilds of Connemara, I highly recommend it. Rolling green hills, gorgeous blue lakes, towering high mountains, with white horses and sheep roaming around the hills. The bus ride alone was worth the trip. We arrived in Clifden, where we hailed a taxi to Cleegan. When we arrived, a sketchy van reminiscent of a mobile meth lab was waiting for us, but the driver told us that our taxi driver would have to follow him to our real destination. Our driver only agreed to take us so far because the roads were too bad for him to drive. On the way, we had to suddenly stop because many sheep were crossing the road. Being blocked on the road by a dozen sheep on the way to jump off cliffs was definitely a new one for me.
Our driver let us out and we began our trek on a small country road. All around us, the green mountains of Connemara towered. Real Adventures Connemara was living up to its name.
The van eventually pulled up to meet us and we piled into it to change into our wetsuits. We had to keep our shoes on and put shorts over our wetsuits. Then, we were given life vests, helmets, and gloves to protect us from the barnacles. The nerves definitely started kicking in across the group. The outfits made everyone feel out of their element. Then, we went down the mountain and began climbing down various rock formations until we dove into the cold North Atlantic. We immediately climbed a short cliff and jumped off of it. There was no easing in to this activity.
Basically, it was an hour and a half of climbing over rocks, jumping off of rocks, swimming in gullies and caves. It was the most intensely physical thing I've ever done in my life. You have to keep climbing and swimming for the entire time. It also was the most gorgeous place I had ever seen. Coasteering was a unique opportunity to see parts of the shore that are generally unreachable. The biggest jump was about 25 feet. I wanted to do it in a smooth pencil shaped formation, but I fear the adrenaline caused me to flail about in the most ungraceful way that was humanly possible.
While coasteering is safe, you have to stay alert. Climbing and pulling yourself over slippery rocks requires a lot of attention. At one point, half of the group had climbed on to one cliff and were waiting for the rest of us to jump off a cliff and swim over to them. Suddenly, there was a giant wave. A girl on the other cliff had not climbed high enough and was pulled down the rock formation. The tour guide was still in the water and was able to grab her before she was pulled out too far. Her stomach hurt from hitting the rocks. She had also hit her head, but luckily she was wearing her helmet. It was definitely a frightening moment that reminded us this is a serious sport.
We had to catch the last bus back to Galway, so the two-hour tour was cut to an hour and a half. Our tour guides realized we were out of time, so instead of completing what they called the "big swim," where the most beautiful caves were, they decided we would have to climb up the tall cliff. They had a rickety rope that they told us would be sufficient to pull ourselves over the mountain. That part was definitely not what I had signed up for, but the view from the top was amazing. I've seen some scenic places in my life, but it's different when you know you started in the water and climbed all the way to the top. Unbelievably, the rain had held off all day and only started lightly spritzing when we reached the top of the cliff. It was straight out of a movie.
Now, I am very bruised and sore, but it was completely worth it. Doing something so unique was completely the right way to spend my free weekend. I highly recommend coasteering to anyone who loves adventure. One of my bruises is in the shape of a heart, which is symbolic of my love of coasteering.