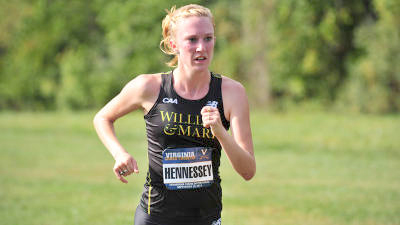 William and Mary rounded out its September schedule at the Panorama Farms Invitational Friday. The No. 26 women's squad finished second in the 10-team field, while the men's side earned an eighth-place finish in the 12-team field.
Junior Carolyn Henessey paced the College and placed third overall, completing the 6k in 20 minutes and 53 seconds. Henessey continues a strong fall season in which she has crossed first, second and third in three meets. Freshman Regan Rome placed in the top 10 thanks to a 21:18 performance, while senior Dylan Hassett's 21:29 run earned 11th place. Junior standout Emily Stites did not race.
As a team, the College earned 74 points, good for second overall. No. 10 Virginia won with 37 points, while Wake Forest and Arizona rounded out the top four. Furman and Auburn tied for fifth.
The men finished with the lowest time-spread among their top four runners, but couldn't crack the top seven. Host No. 13 Virginia won the event, with Furman and No. 12 Iona rounding out the podium. The College's 212 points did top Wake Forest, Duke, Bucknell and Clemson.
Individually, sophomore Trevor Sleight led the Tribe, finishing the 8k course in 25 minutes. Juniors Nathanial Hermsmeier and Ryan Gousse and sophomore Faris Sakaliah all finished within 15 seconds of Sleight.
The men's side will have two weeks off before a split-squad weekend Oct. 18. The varsity side travels to the Wisconsin Adidas Invitational while the rest of the team competes at the Christopher Newport University Invitational.
The women's squad will follow suit, splitting between Wisconsin and Newport News, Va.