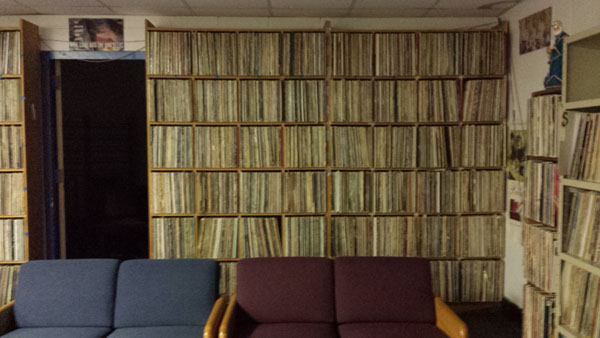 With an estimated 400,000 CDs, 200,000 twelve-inch vinyl records and 10,000 seven-inch vinyl records dating as far back as the early 1960s, WCWM, the College of William and Mary's radio station, will begin cataloging and electronically storing its extensive collection with help from Earl Gregg Swem Library and a roughly $1,000 grant from the Media Council.
WCWM's goal is to make the radio station's extensive collection more accessible to the student body.
"We've had a catalog for [about] five years, but it's extremely flawed," Sarah Henry '16, the station director for WCWM, said. "You just entered [information] onto an Excel spreadsheet, [but] you couldn't access the Excel spreadsheet, so [then] you were just entering [the records] into nothing. So when I became station manager in the spring, I was like, 'This is something I really want to do because we have so much here and a lot of it people don't know [about].'"
With the help of Swem and Discogs, a website and database of information about audio recordings, the cataloging process has been streamlined and simplified. CDs are cataloged through QR codes and vinyl records are inputted by hand. Henry said the station plans to make the cataloged records available for the student body to listen to online.
She also said the station is starting by cataloging their more valuable and vulnerable vinyl records that date as far back as the early 1960s. Many of these records were originally given to the station for temporary promotional use.
"We're starting off with [those records] because these are all promotional copies," Henry said. "The promotional companies weren't expecting us to keep them forever, which we did because they're amazing, [but] a lot of that paper [they used to cover those records] is acidic."
The station's cataloging efforts have been greatly helped by the music librarian at Swem, Kathleen DeLaurenti, and Swem's special collections, which have instructed the station on how to preserve its vinyl records.
"[DeLaurenti] has helped me decide what we needed to get and research what we needed.Some of her volunteer hours have been helping me [catalog]," Henry said. "So she has been a really big asset in helping me figure out what I need. [Also], I met with people from Swem in the spring and [spoke with] special collections [about] how they preserve the[ir] vinyl collection. They use the Library of Congress guidelines, so that's what we're going to use."
Henry said she expects the project to take the station an estimated two years to complete.