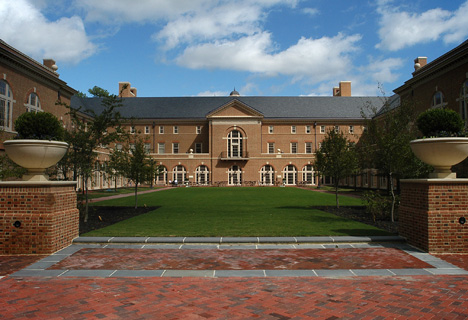 The proverbial glass ceiling is higher for women in Williamsburg than in most other U.S. cities, according to a recent study released by Infogroup Targeting Solutions.
The study collected data on businesses across the country to see how many had at least one female employed in a top executive position. In Williamsburg, which placed ninth on the list of cities with the most businesses fitting the bill, 40.5 percent of firms have at least one female senior member, compared with the national average of just 27 percent.
"There has been a lot of media coverage recently about the glass ceiling and women in the workplace with several tech companies publishing self-reported diversity statistics," Infogroup Vice President of Sales Andrea Halderman said in an email. "Given the depth of data in the Infogroup Business Database, which has robust information on over 21 million businesses, we wanted to use its capabilities to lend an incremental voice to the conversation. We found it surprising that six Silicon Valley cities appear in the top 50 U.S. cities for female executives, when looking at companies with 10 employees or more."
"Businesses in these college towns probably know the talent that's coming out of the schools," Madison Swart '15 said. "And I think that we're becoming more and more blind to gender."
In these six cities — home to technology giants such as Facebook, Twitter and Pinterest —women fill between 19 and 23 percent of executive roles. The Washington, D.C. metro area also boasts six cities in the top 50: Herndon, Va.; Reston, Va.; McLean, Va.; Arlington, Va.; Bethesda, Md.; and Washington, D.C.
Williamsburg joins four other college towns on the top-10 list, and 14 others that make the top 50. Among these cities, Williamsburg is the only Virginia college town.
Madison Swart '15, finance major at the College of William and Mary's Mason School of Business and president of the Women in Business club, said she was not surprised by the high proportion of college towns that have women in high business positions, since nationally females make up a higher percentage of college students than males.
"Businesses in these college towns probably know the talent that's coming out of the schools," Swart said. "And I think that we're becoming more and more blind to gender, so it's not like 'Oh, you're a woman so you're not going to be an executive because you want to have a family.' Women have more liberty to make their own decisions, I think; it's just become more of the norm. And I think that college towns are where it starts because that's where the talent's coming from."
City Councilwoman Judith Knudson said Williamsburg's rating was actually higher than she would have expected. As the sole female city council member, the first female member of the James City County board of supervisors, and former president of the Williamsburg Area League of Women Voters, she said gender inequality in Williamsburg — even though less pronounced than in previous years — is still pervasive and damaging.
She recalled attending a recent meeting in which a woman gave a presentation and about half the audience was female, but the only ones who asked questions were the men.
"There are a lot of women there," Knudson said. "They're very visible, obviously, but I get the feeling that the men are still running everything, which is a feeling I've had for a long time."
The Infogroup study found that, among executive positions, only 12 percent of company presidents around the country are women, compared with 51 percent of executive directors. Knudson, who was the executive director of Olde Towne Medical Center until 2007, called the difference a result of the average size of each position's paycheck — company presidents traditionally get paid more than executive directors.
"I think it's a salary thing," Knudson said. "I really do."
Sabrina Parsons, CEO of Palo Alto Software and advocate for women in business, said that stereotypes also contribute to the uneven distribution of women in leadership positions.
"Chief administrative officer and executive director positions are typically found at non-profit organizations," Parsons said in an email. "They are respectable and demanding jobs, and are jobs that have been typically more available for women. There are stereotypes that make it culturally 'good' to have women in these roles."
Parsons also said she saw these cultural biases as evident in the study's finding that 34 percent of chief marketing officers are women.
"The number of women in chief marketing officer positions shows that women make it to the C-suite only in roles that are stereotypically feminine," she said in an email. "Even at the CMO position, women still hit a glass ceiling. They report to the CEO or president and never make it to the top spot. These positions are only consolation prizes in the overall struggle to get women into leadership roles at work."
While there may still be discrepancies in Williamsburg's business community between the privileges afforded to men and those afforded to women, Knudson emphasized the improvement she has seen in her time in Williamsburg. Swart said she was happy with the way women are treated and represented at the Mason School of Business, but that, in the long run, employment should be completely independent of gender.
"I think it is good to bring awareness to the fact that women are just as competent as men and we can do well in the business world, and that should just be it," Swart said. "Going forward, it shouldn't be a matter of male or female; it should just be like, 'you're a person.'"