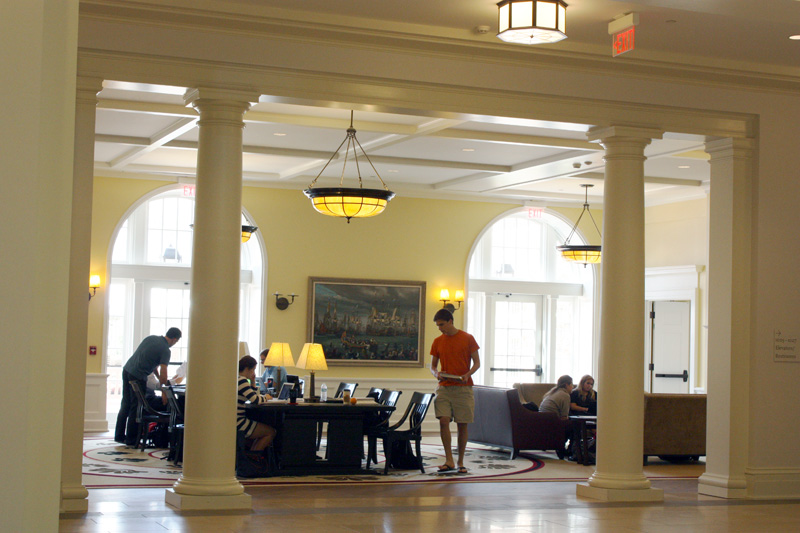 Bloomberg Businessweek recently ranked the College of William and Mary's Mason School of Business as having the 22nd best undergraduate business program in the nation, raising the school up five places from last year's ranking.
The business school's new ranking also places it seventh among business programs at public universities. Bloomberg Businessweek ranked the College's Business School as having the best marketing program in the nation last June.
The ranking took into account a total of 152 undergraduate business schools. Businessweek's methodology focused on assigning points based on academic quality, employer opinion, median starting salary for its most recent graduating class and the "feeder school" factor — namely, which school sends the most graduates to top MBA programs.
Mason School of Business Dean Larry Pulley and Executive Director of the Undergraduate Business Program Chris Adkins released a joint statement to address the Businessweek article.
"New courses in Finance, in Sustainability and Social Entrepreneurship, and in Design Thinking distinguish W&M in the competitive landscape of business schools, and have been well received by our students and employers," they wrote in the statement. "We have been deepening our partnership with alumni and with the Cohen Career Center to expand the professional pathways available to students. … In the last two years we have created new opportunities where our students can connect with our Executive Partners as they explore their future."
Business school student Sang Yoon Park '15 noted that the news indicated "high quality faculty members" and a "broader alumni network" at the business school.
"[The increased ranking] means greater pride for me as a business student in the College of William and Mary," Park said in an email. "It also means greater chances for large companies to recognize the business students from W&M and thereby recruit more students."
Pulley and Adkins credited the business school's faculty, advising team and undergraduate leadership team with the improvement in ranking. They highlighted Business School programs focusing on design and sustainability, along with a new partnership with the Boehly Center for Excellence in Finance which provides students and faculty with new resources. Going forward, they said they hope to provide more support for international study and social entrepreneurship.
"Our success is a team effort with so many different individuals contributing their unique talents to our learning community," they said in the statement. "[We] first want to thank everyone and then [we] want to invite our students to continue to partner with our faculty and us on how we can make our programs even more valuable and beneficial."
Business School student Jack Edgar '15 said he believes that the new developments at the Business School — such as the Marketing Design Lab — are part of the reason for the school's improved position in Businessweek's ranking. He hopes to see the school continue to raise its standards even higher and become a role model for other business programs.
"I think that the new rankings just reinforce the confidence that I have in the degree I'm earning," Edgar said in an email. "It makes me proud to attend the Mason School of Business and prepared to be able to walk into interviews knowing it means something."
Jonathan Roth '15 said he is also hopeful that this news will give students at the Business School an edge in the job market for internships and careers.
"The change in ranking means that hopefully [Mason will receive] greater recognition among employers across the country," Roth said in an email. "As the program becomes more and more well regarded, I hope that means more employers will offer more opportunities to Mason School of Business students."