Next fall, nearly 200 neon-wearing Orientation Aides will help welcome and acclimate new students to campus life at the College of William and Mary. More likely than not, the students wearing the bright yellow shirts will be members of social fraternities or sororities.
According to data from the selected group of OAs for Fall 2014, approximately 75 percent of students chosen to serve as OAs are also members of social fraternities or sororities at the College. This number is similar to the number of Greek students in last year's group of selected OAs. In Fall 2013, approximately 77 percent of OAs were members of Greek organizations. Additionally, eight of the ten Orientation Area Directors who will oversee OA staff for Fall Orientation 2014  are also members of Greek organizations.
Comparatively, about 27-30 percent of the College's student body is comprised of members of Greek life on campus, Graduate Assistant for Fraternity and Sorority Life Meghan Holton said.
Director of First Year Experience Lauren Garrett said there could be various reasons to explain the overlap between Greek-affiliated students and Orientation Aides.
"I think within any organization — Greek or not — you're going to have people who talk about their experiences. … I think what we see with many of our organizations that sort of have that legacy of involvement is that you have numbers who talk about it, who talk about their really great experience and really encourage their members to participate," Garrett said.
Orientation Area Director Meghan Sheehan '15 agreed, saying she promoted her experience of serving as an OA to the members of organizations with which she is involved.
Sheehan, a member of the Gamma Kappa Chapter of Kappa Kappa Gamma sorority at the College, said she views the number of students involved in both Greek life and the orientation process as a reflection of students' interests.
"OAs in general are very involved on campus and people in Greek life are very involved on campus, so you kind of have this large portion of people who want to be super involved," Sheehan said. "If someone is Greek, they probably want to get out there and have this type [of] personality where they really want to meet new students and give them a sense of the school and everything. I think it's more of an overlap of interests more than anything else."
Sheehan, who is also a tour guide, said that she also sees an overlap between tour guides and Orientation Aides. Garrett added that many Orientation Aides also tend to be involved in community service activities on campus.
Garrett said the selection process for the College's Orientation Aides is extremely competitive: 435 students applied this spring to fill 100 available OA spots, after returning OAs were selected in the fall.
OA applicants who have not previously served as Orientation Aides complete a written application process, followed by two rounds of interviews, which the OADs conduct.
Prospective OAs list their involvement with campus organizations on their applications, but Sheehan and fellow Orientation Area Director Mary Beth Berg '15 said that organization affiliations are not taken into account in the application or interviews.
"I guess a large percentage of it is Greek, but when it comes down to it, I honestly don't know, as someone who hired them — I literally hired these people — I don't know who's Greek and who's not," Sheehan said.
Garrett and Sheehan both mentioned that the First Year Experience department and OADs advertise widely across campus in encouraging students to apply to become OAs. Using campus-wide emails, fliers and advertisements in Student Happenings, the advertising campaign begins in January.
Berg said that in selecting this year's group of OAs, the OADs focused on the range of the applicant pool.
"I do think it's important to note that we do not look specifically to hire Greeks," Berg said. "We're looking for as diverse a pool of applicants as possible, and ideally, we want it to be representative of the larger student body."
She added that she does see a connection between members of Greek organizations and personality traits which may be effective in leading orientation activities.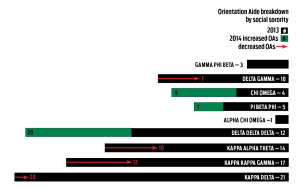 "I think that what comes with being Greek is oftentimes a very social, a very outgoing person, and I think that works well in the orientation role," Berg said. "It's the people that like to be involved and like to meet new people and are used to talking to a lot of different people who they've never spoken to before, like new freshmen coming in, similar to the rush process or something like that. I don't think there's really a direct correlation, I just think … they happen to be outgoing, upbeat people. But that being said, I don't think that not being Greek excludes you from that category of [being] outgoing and social as well."
Kim Bond '15, who is not a member of Greek life on campus, said that, in her view, plenty of enthusiastic potential OAs can be found outside the Greek community.
"I feel like [OAs] should be more representative of the student body," Bond said. "Even if they do look at people who are super enthusiastic, I feel like you can find people like that who are in the general student body and aren't involved in Greek life."
Bond said that one of the two OAs assigned to her freshman hall was a member of Greek life. Of her two OAs, Lauren Collier '15 said that both were involved with Greek life on campus, which she said ended up playing a role in the Orientation process.
"My OAs really did push Greek life, because they were a part of it," Collier said. "I think it would be better to have more representation from other groups being OAs."
However, the OADs stressed that ultimately, OAs are chosen based on personal factors — such as enthusiasm, ability to work with multiple personality types, flexibility and dedication — rather than on an applicant's on-campus activities.
"As far as our applicant pool, we're looking for quality of applicants rather than filling a quota," Berg said. "We're hoping for the best possible staff, keeping in mind that it should be representative of the whole student body, but knowing that in the end, the person that's right for the position is going to be the right choice for us."
These numbers are based on students who were members of Greek organizations when they were selected as Orientation Aides in Spring 2013 and 2014. 141 of 182 OAs in Fall 2013 and 145 of 194 for Fall 2014 — as listed on the College's website — were members of social fraternities or sororities during Orientation. One student could not be accounted for.
*No confirmed members of Pi Kappa Alpha are OAs for Fall 2014.
**Lambda Chi Alpha is no longer recognized as an official fraternity at the College. However, at the time of Fall 2013 OA selection, one OA was a member of the now de-chartered fraternity and one former Lambda Chi Alpha is an OA for Fall 2014.