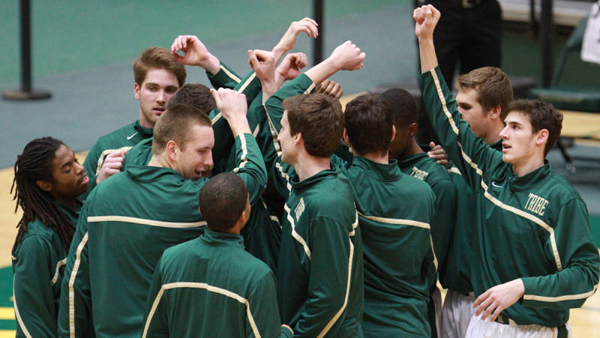 William and Mary's 68-45 loss at No. 7 Florida in Friday's season opener offered few clear conclusions for fans looking for insight into what to expect from this team.
The contest was all but settled by the end of the first half, after the Gators went on a seemingly easy 15-0 run. For the first 20 minutes of the game, the Tribe was thoroughly outplayed against one of the most talented teams in the country.
Florida played its second string lineup following halftime, while the Tribe played with more focus, leading to a 27-26 second half scoring advantage.
Sophomore forward Omar Prewitt, coming off last season's Colonial Athletic Association Rookie of the Year campaign, topped all scorers with 15 points on seven baskets in 15 shots.
Senior guard Marcus Thornton struggled for most of the night, hitting just three of 11 attempts. The Gators oriented their first half defense around limiting Thornton's effectiveness by double-teaming him every time he touched the ball. Thornton was routinely frustrated on drives, and he forced well-guarded shots from around the perimeter.
"Well, he's going to see it all year long," head coach Tony Shaver said. "He's got a lot of pre-season accolades, which are well-deserved. But it's a new year, and we have got to earn new things. Every time he comes off a ball-screen, every time he tries to penetrate, there are going to be two or three guys on him."
Thornton was routinely frustrated on drives, and he forced well-guarded shots from around the perimeter.
In what was a disappointment for a player who comes into this season as one of the most touted guards in the mid-majors, Thornton committed three turnovers and scored just four points in the first half.
With Thornton struggling and junior forward Terry Tarpey and freshman guard Mike Schlottmann out with injuries, the Tribe had few offensive options to counteract Florida's outstanding athleticism.
The Tribe only made two of its 22 three-point attempts in the game, as its players were relegated to long-range shooting while being kept out of the lane. The College relied heavily on its shooting prowess last season, and long range shots figure to feature even more prominently in this season's offense.
"If we don't shoot the ball better than that, we're going to have trouble scoring the ball," Shaver said. "We believe in shooting the three. Some of those were wide-open shots we missed, but some of them were bad shot-selection[s] as well."
Junior center Sean Sheldon played for 25 minutes and contributed five rebounds to the effort. However, Florida's big men were able to consistently outmaneuver Sheldon in the post for easy points. Overall, the Gators' size, strength, and speed proved far too much for the College to handle Friday, but many Tribe players gained important experience in the loss.
Freshman guard Oliver Tot, who hails from Bratislava, Slovakia and played on the Slovakian national team during the summer, led the team with six rebounds. Freshman forward Jack Whitman, who redshirted last season after sustaining an early injury, combined with senior forward Tom Schalk to spell Sheldon down low. Each contributed four points.
"A lot of young players for us [were] on the floor," Shaver said. "We started a freshman, two sophomores, a junior, and a senior. So we know we'll get better as the season goes on. It was a tough place to play an opening game, but I wasn't real pleased with our performance."
Shaver reflected on how the experience in Gainesville might affect the team and its long season.
"The key to this whole thing is that it'll be a good experience if we can learn from it," Shaver said. "That's the key for us right now: to learn and get better."
The College's home opener is tonight against Howard. Tip-off is set for 7 p.m.