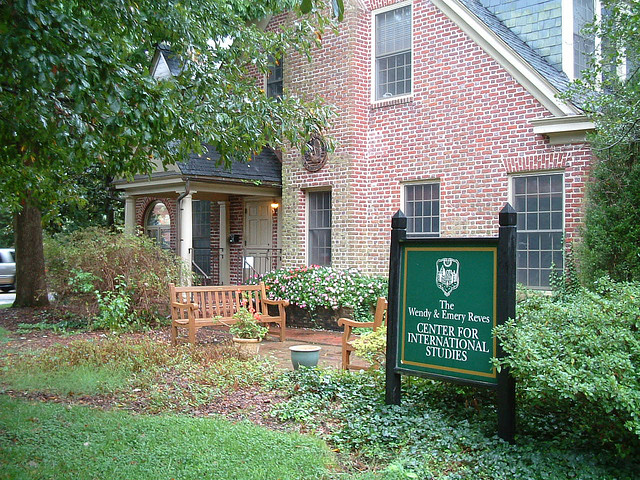 For the second year in a row, the College of William and Mary has the highest participation in study abroad of all public universities, according to the Institute of International Education's annual Open Doors report.
The College ranked 20th overall with 45.8 percent participation for the graduates of the 2012-13 school year, a total of 674 students. That is an increase from last year's 653 graduating students who went abroad while attending the College.
Any program abroad for credit counts toward this total, including research programs. Not all of the College's opportunities for study or experience abroad are taken into account in this ranking because many students and organizations also go on trips that do not provide academic credit. Assistant Director for Study Abroad-Operations Molly DeStafney said she thinks that the various trips students at the College take are valuable.
"I think our students are just curious for those opportunities and experiences," DeStafney said. "I think that [the students] are all very strong, academically speaking, and have interests in a lot of different places that extend beyond the reaches of campus."
William Plews-Ogan '15 took advantage of an opportunity to study in Brazil during the spring of his junior year. Although he was living in a Portuguese-speaking country, Plews-Ogan ventured in with only a few years of Spanish.
"Day one, I think I knew three words, and one of them was not what I thought it was," Plews-Ogan said. "I wanted a unique, not Spanish, academic experience and language immersion, so Portuguese was close enough that it would work."
Plews-Ogan is one of many American students across the country who have participated in study abroad programs. Earlier this year, the College pledged to join IIE's Generation Study Abroad initiative. As of the 2011-12 academic year, 295,000 American college students studied abroad. The initiative's goal is to increase this number to 600,000 by 2019 by partnering with universities and other organizations. The College has committed to increasing student participation to 60 percent over the next five years.
The Wendy and Emery Reves Center for International Studies plays a large part in enabling students to take part in these opportunities. According to DeStafney, there is currently almost $400,000 allocated toward student study-abroad scholarships, a number the Reves Center hopes to increase substantially. One of the two most common reasons students decide not to study abroad is a monetary barrier.
The other is a fear that they cannot fit study abroad into their plan of study. The Reves Center works to overcome this challenge by creating new programs specified toward majors without other options, like the new summer 2015 health sciences program in Antigua. Some students turn to other schools or organizations for a program that fits their needs. Plews-Ogan chose his program for several reasons.
"It was social justice and sustainable development and that really fit with my major," Plews-Ogan said. "I also thought it would be timely with the World Cup being there and all of the social justice issues with that."
Grace Fernandez '15 studied in Chile, also through an outside program, because of its international business focus. She said she thinks that the students are the reason the College has such a high participation rate.
"[The students] want to push themselves to take advantage of the full spectrum of what the school can offer and study abroad is definitely an experiential part of that," Fernandez said.