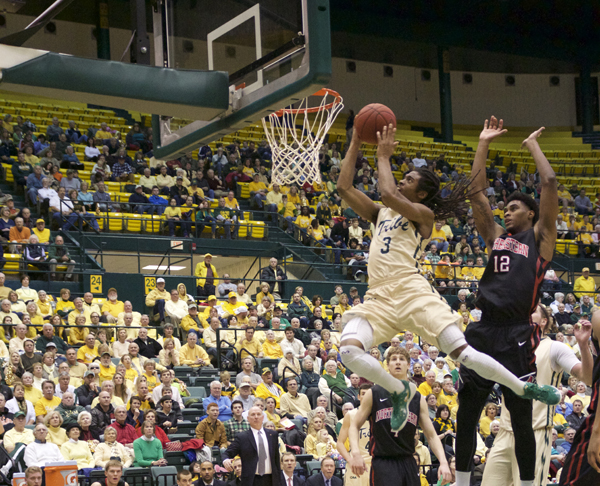 Standing 6'6", freshman guard Oliver Tot averages about a point and a half and 10 minutes per game through 11 games this season. Saturday's five-point, 10-minute performance wasn't remarkable for the numbers, but was for William and Mary's bid at an upset win.
After Northeastern cut an 11-point halftime deficit to just two, Tot hit a three from the left wing. Junior guard Terry Tarpey came up with a steal on the ensuing Huskies possession, only to watch the layup attempt rim out.
"I saw a missed layup, then I saw a flying European coming behind me to finish it," Tarpey said. "I'm really excited for him. We work out together a lot. He came home with me at Christmas because he couldn't go home. It's great to see him have a great game like he did."
Tot's emphatic one-handed slam keyed a run that cemented the College's 78-62 win. The decision moves the Tribe (12-7, 6-2 CAA) into a first-place conference tie with Northeastern (14-7, 6-2 CAA).
"Just a great win for our team. We beat a really, really quality team. Bill Cohen is as good a coach as I've seen, and we beat a very experienced basketball team," head coach Tony Shaver said. "There's a reason they were picked to win this league. Just really impressed with our guys."
In one of the season's most balanced performances, the College never trailed and placed four players in double figures. Tarpey flirted with another double-double (15 points, eight rebounds), while junior center Sean Sheldon (15) and senior guard Marcus Thornton (13) each contributed productive minutes.
No one surpassed sophomore forward Omar Prewitt's line, however.
"Omar's really good. He's playing at a high level for us right now," Shaver said. "He was incredible today. It's nice to have a guy like Terry Tarpey and Omar Prewitt, who can step up for you."
Prewitt, last season's conference Rookie of the Year, tallied 19 points on 6 of 11 shooting, including 6 of 9 from the charity stripe. Prewitt also added five boards, three assists and a team-high three blocks.
Shaver didn't hesitate to use his bench, as Tot, freshman forward Greg Malinowski and senior forward Tom Schalk collectively contributed 11 points, four boards and three assists over 35 minutes. Shaver and Prewitt acknowledged the bench's performance — both offensively and defensively — especially Schalk's.
"It makes our jobs a lot easier when they're coming off and playing that well," Prewitt said. "We don't have to come in and do everything right away. And Tom did play a hell of a game."
While the offense excelled — especially in the paint, where it outscored Northeastern 42-40 — the difference in the game came on the defensive side. The College tallied seven blocks and a season-high 11 steals.
One game removed from a second-half meltdown to Delaware, the Tribe's defensive efforts weren't lost on Shaver.
"We did have that stretch … where [Northeastern] kind of scored at will on us," Shaver said. "It seemed like four, five, six possessions in a row and that moment may have been the key moment for this team. I don't know, but we were reeling a little bit after having gone through that a few nights ago, but they stood their ground. They stood their ground, got stops, got key rebounds and we learned from our past a little bit."
Northeastern's rally midway through the second half prompted Tarpey to move to the point of the zone. Results? The Huskies missed 14 shots, hit just eight, and turned the ball over four times after Tot's put-back dunk, an 8:03 stretch.
"In the beginning of the second half we kind of dropped a little bit," Tarpey said. "We came out of the gate a little slow, but it's good to see we were able to pick it up and still play as a team and still play really hard defense and board like we did in the second half."
The College cruised the rest of the way and Northeastern couldn't catch a break. Trailing by 15, the Huskies' Scott Eatherton attempted a two-handed dunk only to meet sophomore guard Daniel Dixon's resounding block. For good measure, the Tribe enjoyed a 15-2 run over the last five minutes.
Thornton flipped the ball toward midcourt as the final buzzer blared. The 5,053-strong Gold Rush crowd, Kaplan's largest in the last five years, roared in delight.
"What an electric atmosphere for our guys to play in, and maybe one of the most impressive things was that with the atmosphere our kids played really well," Shaver said. "Sometimes you get lost in that, and don't focus on what you're supposed to do. Today they were really sensational."
Back atop the conference, the Tribe looks to steady its standing Wednesday as it hosts Hofstra. Tip is set for 7 p.m.