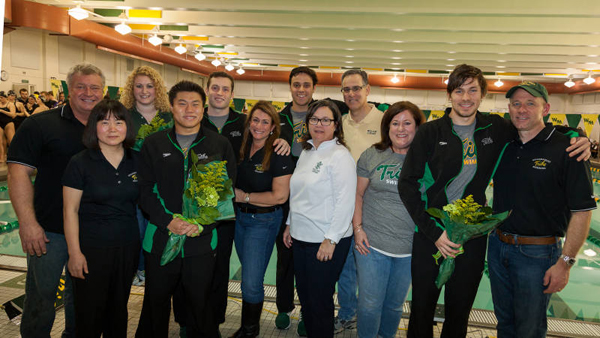 Even for a campus as entrenched in history as William and Mary, Saturday was unique.
For the first time since 1998-99, the men's swimming program downed East Carolina, 166-96. The win guaranteed back-to-back 7-2 seasons, just the eighth time since 1945 and the first time since the 1968-71 stretch that the College has enjoyed two-loss campaigns.
To add to the accolades, the meet marked head coach Matt Crispino's '02 100th career win. Crispino joins Dudley Jensen (170) as the second Tribe swimming coach with more than 100 wins. Dudley coached for 33 years; Crispino will enter his ninth next season.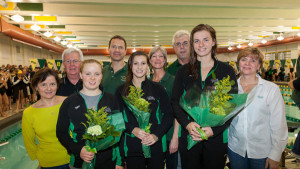 The women fell to East Carolina, 150.5-111.5, marking the second consecutive 7-4 year. While history stole headlines, the performances in the pool merited attention of their own.
Nine of the 14 events went the Tribe's way in the men's competition, including the 200-meter medley relay team (1:32.13), junior Jeremiah O'Donnel's 200-meter free (1:40.77), junior Will Manion's 100-meter back (49.38) and 200-meter back (1:48.77), freshman Evan Baker's 200-meter fly (1:52.12), freshman Kyle Neri's 50-meter free (21.36) and 100-meter free (46.66), junior Justin Barden's 100-meter fly (50.95) and the 400-meter free relay team (3:06.15).
The women won three events, including the 400-meter relay team (3:28.46), senior Megan Howard's 50-meter free (23.79) and sophomore Sophie Rittenhouse's 100-meter back (57.63).
The men and women both celebrated the senior class. Seniors Chris Dong, Taegan Clarke, Matt Goetz and Carter Head enjoyed a 25-12 four-year run, the best since 1973. Seniors Liz Collins, Megan Howard and Greta Schneider combined for 28 wins. Combined, the senior class finishes with a 53-32 all-time record, tops since the 1975 class.
The Tribe returns to action at the University of North Carolina for the UNC College Cup next weekend.
Behind the scenes look at @WMTribeSwmCoach and company http://t.co/KlvDbT2TLZ via @swimswamnews

— Flat Hat Sports (@FlatHatSports) February 2, 2015