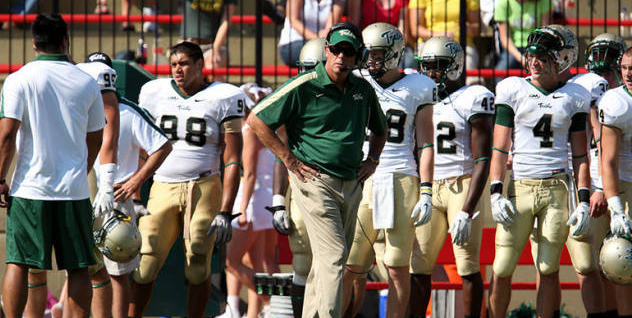 It took just four hours and 15 minutes Wednesday morning. Moments after 7 a.m., the fax machine began whirring and didn't quit until incoming freshman Nick Wimmer filed his National Letter of Intent at 11:25 a.m.
All told, William and Mary added 13 students to its roster as part of National Signing Day.
"This is a group of young men we identified early in the process and were able to focus our efforts on creating solid relationships," head coach Jimmye Laycock told Tribe Athletics. "The staff did an outstanding job of not only identifying outstanding and talented young men, but also addressing diverse areas of need. We are looking forward to working with these men, and I expect them to be competitive from day one."
Wimmer joins a diverse group that hails from seven states and Canada. Three defensive backs, two tailbacks, two defensive linemen, two offensive linemen, a quarterback, wide out, tight end and linebacker all committed to the Tribe.
Two signees — 6'4" inches wide out Chris Conlan and 6'3" defensive back Miles Hayes — each bring professional familial ties to the College. Conlan, who is from Quaker Valley High School in Leetsdale, Pa. and is the school's all-time leader in receptions, receiving yards and touchdown catches, follows in his father's footsteps. Shane Conlan, the eighth overall pick in the 1987 draft, played for the National Football Association's Buffalo Bills and Los Angeles/St. Louis Rams from 1987-1995 after winning two national titles at Penn State University in 1982 and 1986. Conlan played in three Super Bowls (1990-1992) and earned the 1987 Associated Press NFL Rookie of the Year award.
Hayes, from Archbishop Moeller High School in Cincinnati, Ohio, lettered each year and won the state title in 2013. Hayes's father, Jay Hayes, played at the University of Idaho and in the United States Football League. Hayes's brother, Jesse Hayes, plays at the University of Wisconsin and his uncle, Jon Hayes, was a second-round pick in 1985 and played 12 seasons in the NFL, including Super Bowl XXX. Jon Hayes also won the 2000 national championship as an assistant coach for Bob Stoops's Oklahoma Sooners. Hayes's father and uncle both currently work for the Cincinnati Bengals as the defensive line coach and tight end coach, respectively.
In-state recruits include Nate Atkins (Roanoke, Va.), Brehon Britt (Chesapeake, Va.) and Corey Parker (Haymarket, Va.).
Atkins, a 6'1" linebacker from Hidden Valley High School, averaged 9.3 tackles per game over a three-year career. Fans will recognize Britt as the brother of Brandon Britt '14, a career 1,000-point scorer for Tony Shaver's basketball program. Britt amassed 7.5 yards per carry over three years at Atlantic Shores High School. Parker, a 5'10" defensive back from Battlefield High School, enters with some familiarity with the Colonial Athletic Association as his brother, Christian Parker, played for the University of Richmond.
William and Mary landed two recruits from New Jersey and two from North Carolina. Tyler Klaus, a 6'4" tight end from Haddonfield Memorial High School, hauled in 44 catches for 624 yards over three years. Bill Murray, a 6'4" defensive lineman from Delbarton School, looks to add size and strength to the Tribe's front four. Murray tallied 52 tackles and 22 tackles for a loss over two seasons.
North Carolinian Albert Funderburke, Jr., a 6'0" tailback from Sun Valley High School, became the first player in Union County history with more than 2,000 yards in three consecutive seasons. Wimmer, the last signee, stands 6'2" and hails from North Davidson.
Maryland added two recruits: 6'2" defensive back Grant Waxter from Linganore High School and 6'3" quarterback Brandon Battle from North Point High School. Linganore found the ball often over three seasons, logging 10 interceptions alongside six fumble recoveries and five forced fumbles. Battle set school records for passing yards and touchdowns en route to averaging 237.7 passing yards per game over his career.
Graydon Campbell, a 6'3" offensive lineman from Episcopal High School in Ontario, Canada, is the only international player to sign. Campbell should offer the College some strength up front — he placed second in an Ontario weightlifting competition three years ago.
Joe Suarez hails from South Dade Senior High School in Miami, Fla. A 6'2" defensive end, Suarez finished his prep career with more than 38 sacks and 170 tackles.
The Tribe resumes preparations for the upcoming season with the April 11 Green and Gold Spring Game.