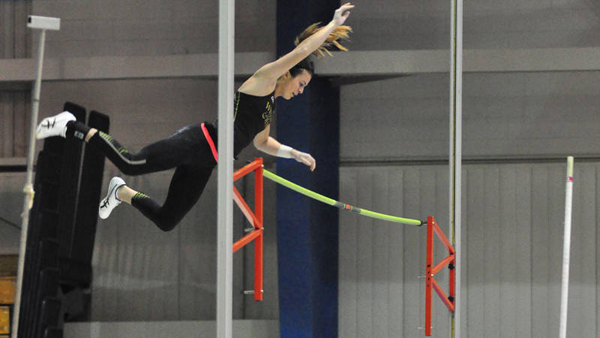 William and Mary boasted solid performances at the Liberty Quad meet in Lynchburg, Va., winning a total of seven events Friday and Saturday.
The men won three events and garnered three Intercollegiate Association of Amateur Athletes of America, or IC4A, qualifiers while breaking two records.
On the track, junior Jacob Sears won the mile in four minutes and 22 seconds. Sophomore AJ Tucker placed fifth in the same event with a time of 4:25.57. Junior Jomar Aryee and freshman Dylan Anderson also performed well, placing third in the 800-meter dash and sixth in the 60-meter hurdles, respectively.
On the field, junior Brian Waterfield won the weight throw, qualified for the IC4A and broke his school record by over eight inches by throwing 18.88 meters. The throw marks his third school record in the event. Waterfield also qualified for the IC4A in the shot put, in which he finished second with a 16.01-meter throw. Junior Derek O'Connell won the pole vault and qualified for the IC4A with a height of 4.95 meters.
Sophomore Alex Hedrick placed fifth overall in the heptathlon. He won the 60-meter dash Friday at 7.24 seconds and placed fifth in the long jump with a distance of 6.36 meters. Hendricks finished Friday with 2,598 points, good for sixth place. On Saturday, he took second place in the pole vault with a height of 4.34 meters before finishing with 4,724 overall points, a personal best and enough to clinch fifth place. The performance puts Hendricks one spot removed from the IC4As — if an athlete drops, he will have the chance to compete.
On the women's side, the College won four events in addition to other honors.
On the track, junior Claire Tito won the 1,000-meter dash in 2:58.37, missing the Eastern Collegiate Athletic Conference qualifying cutoff by two-tenths of a second. Sophomore Katie Vannery, junior Felicity Hammer and freshman Ashley Anderson finished second, fourth and fifth, respectively, in the same event.
Junior Maggie Gutierrez won the 800-meter dash. Juniors Ashley Woodards and Breanna Brukalo took first and fourth, respectively, in the 400-meter event. Juniors Erica Amatori and Leanna Eisenman took second and third, respectively, in the 3,000-meter.
On the field, senior Lizzie Powell won the pole vault at 4.17 meters, breaking the school record Powell set just two weeks ago by almost five inches. Powell is now tied for 19th place for Division I rankings. Freshman Leia Mistowski placed third in the weight throw event with a 15.71-meter throw, the ninth-best distance for the event in school history.
Freshman Minna McFarland won the high jump, clearing the bar at 1.60 meters. Sophomore Savanna Craib took fifth in the same event.
The Tribe travels to the Virginia Tech Challenge this Friday and Saturday.