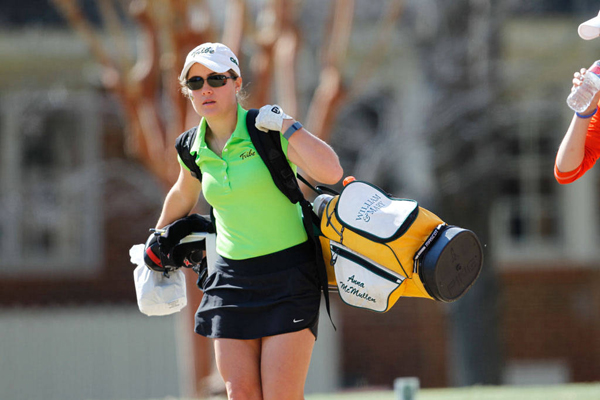 Windy conditions at Kingsmill Resort's Plantation course were no problem for the College of William and Mary earlier this week, as the Tribe hosted the Middleburg Bank Intercollegiate and earned a third place finish.
The College shot a 57-over 921 over the three rounds of the tournament. The Tribe's performance was a mere four strokes out of first place. The top three finishers all managed to break the previous tournament record of 60-over par.
Monday, the College completed the first two rounds of the event. Scoring a 305 and 309 respectively in the two rounds, the Tribe finished the day in second place at a 38-over 614, six strokes behind conference opponent Delaware.
The third and final round on Tuesday moved the College to third as Eastern Michigan took the lead to win the team title with a score of 917. Delaware took second with 918, three strokes over the Tribe.
Individually, junior Alessandra Liu took the title with a 3-over 219 after the three rounds. It is the first event a Tribe women's golfer has won in six years, and the first home contest won since 2001. After the strong performance Liu was awarded her third Colonial Athletic Association Golfer of the Week award of the season. Liu shattered the tournament record by five strokes and ranks as the second-best Tribe score in a 54-hole event. Her season win count of 720 takes fifth place in the College's history. The dominant performance was vital in the Tribe's acquisition of third place overall.
As strong as Liu's performance was, the team also depended on her teammates' performance in order to take third. Not to be outdone, senior Kellie Edelblut tied Liu in the third round with a 4-over 72 to finish her final home appearance of the season in 10th overall. Senior Anna McMullen had a strong third round, finishing with a 6-over 74 to take 13th in individual standings. Senior Kelly Okun took 26th to finish just ahead of Kellie Edlebut's younger sister, freshman Katie Edelbult. Although the younger Edelblut ultimately finished in 27th place she matched her sister for a weekend-best score of 76 in the final round. Sophomore Mia Zanghetti and junior Tina Chang finished in 38th and 42nd place, respectively.
Up next for the Tribe is the Lady Seahawk Intercollegiate hosted by North Carolina-Wilmington in Wallace, N.C., April 11-12.