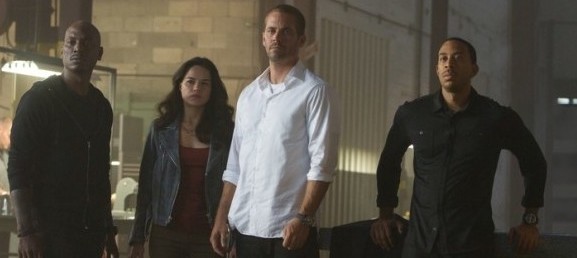 I would love to be a fly on the wall during a Fast and Furious brainstorming session. It would surely be a sight — grown men discussing with glee how they will drop armored cars from 20,000 feet. I would imagine the only difference between them and a group of sugar-fueled 11-year-olds prepping for laser tag would be that the former has $250 million at their disposal.
Furious Seven begins just after Fast and Furious 6, where Deckard Shaw, played by Jason Statham with slightly more humor than menace, has just blown up Han in Tokyo. Shaw wants revenge against Dominic Toretto (Vin Diesel) and his gang for crippling his brother. After barely surviving a massive blast to their home, Toretto, Brian (Paul Walker) and co. launch an all-out war against Shaw. They find themselves knee-deep in a shadow war involving a chip with the ability to hack into every surveillance camera on the planet. They enlist the help of secret agent Frank Petty (Kurt Russell) and hacker Ramsey (Emmanuelle Chriqui) — but the story is only relevant so far as it takes our heroes from one action scene to another.
What Furious Seven lacks in logic, it makes up for in heart. The friendship between Dom and Brian combines equal parts machismo and genuine emotion. Interactions between the team are breezy and loving, with Dom never letting them forget their familial bonds. While the rekindling romance between Dom and his amnesiac wife, Letty (Michelle Rodriguez), is shortchanged, Brian's conflict between his desire for thrills and his duty to his wife and child is compelling. Given that Walker perished before finishing filming, director James Wan does a respectable job incorporating him into the drama, making him the focal point of the film.
As for the action, the chase scenes are well shot and coherently edited; vehicular mayhem has never looked so good, and I could always tell what was happening, no matter how absurd it was. Furious Seven revels in its hand-to-hand combat, filling each fight with gleeful energy and humor. Despite varying levels of creativity, the film's set pieces are consistently fun.
At times deftly and other times clumsily, Furious Seven pulls off madcap action scenes that boggle and entertain. Fast-paced and confident, it knows exactly what kind of movie it wants to be. What surprised me the most, however, was its emotional resonance. Stripped bare, the film is basically a love letter to the late Paul Walker. The film handles his death with grace and maturity in a touching, bittersweet ending I did not anticipate. I only wonder where Fast and Furious can go without Walker.