If a genie gave you three wishes, what would you wish for? Members of the Chemistry Club at the College of William and Mary proved this past Tuesday that anyone can create their own magic with a strong knowledge of chemistry.
On October 27, around 200 students and families from the community gathered in the ISC lecture hall to watch a one-hour chemistry magic show.  Presented by the Chemistry Club, the show mixed music, fire and science together to entertain their audience.
According to the club's social media chair, Kaelyn Warne '17, the show is intended to be a fun way for students to let off steam.
"The chemistry magic show happens every fall," Warne said. "It's traditionally the week before Halloween, so it's the last week of October. [It's ] normally on a Monday, Tuesday or Wednesday … we want it to be a nice study break for the students."
The tradition was started a few years ago but was put on hold for a while due to dwindling club membership. It was resumed under the supervision of chemistry professor Dr. Doug Young in 2012, and this year marks the fourth year of the showcase.
Each year the club has made changes to the set list of chemical tricks, and freshman members are encouraged to bring in ideas for new tricks. According to club member Tim Putnam '16, however, some tricks are returning fan favorites.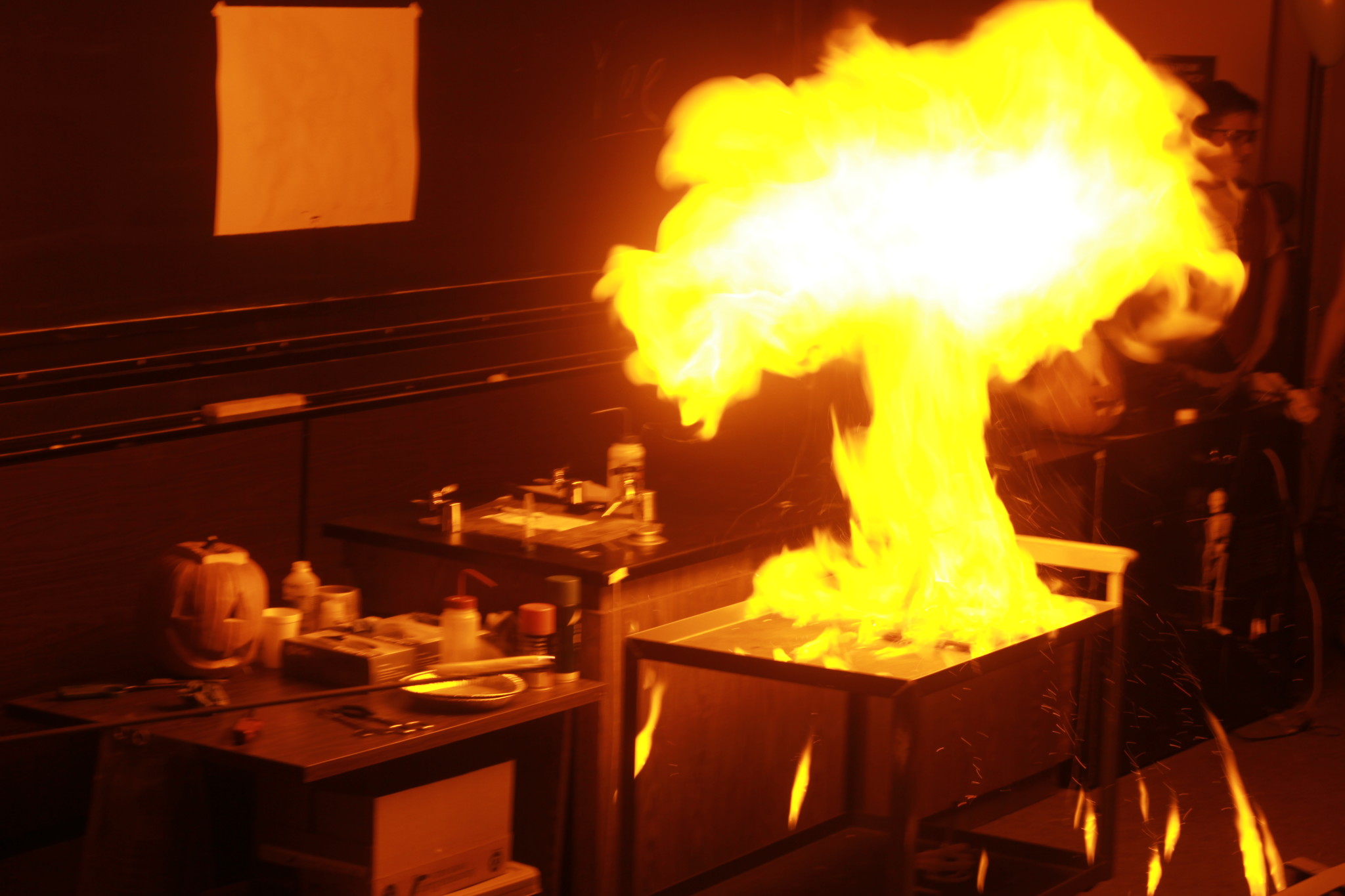 "There are a lot of ideas of tricks out there and some of them get repeated," Putnam said. "But you really kind of make the trick your own; the trick is the same but what it means to the audience could differ."
To keep each new show fresh and exciting, the club picks a theme and weaves the tricks into a story. This year the audience was treated to a chemistry parody of Aladdin, with each trick representing a wish the performer had made to the genie (otherwise known as Dr. Young).
In keeping with the theme, the show opened with a live musical rendition of songs from Aladdin, performed by Bobby LaRose '16 and Myles Sullivan '16.
"I think it's lot of fun, especially in the show — they really, they make it work really well, combining the music and the chemistry," LaRose said. "They made chemistry lyric adaptations of famous musical songs."
Warne said she had been considering turning the magic show into a musical for a couple of years, inspired by her theatre minor.
Exchange student Konstantin Ladurner said the club members did a good job performing the show and maintaining a sense of humor when things went wrong.
"I like the jokes most; the jokes are funnier than the experiments," Ladurner said, "The show was better because of the jokes and because of the humor."