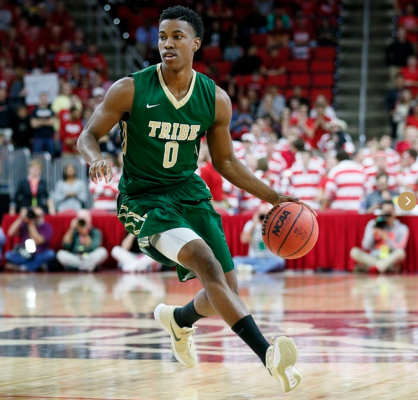 With a nine-point lead heading into halftime against Dayton, William and Mary looked poised to finish off another non-conference road win against strong competition and start the season 4-0. However, the upset was not to be, as the Flyers poured in 48 points on 57 percent shooting in the second half to upend the Tribe 69-66.
Despite the setback, head coach Tony Shaver praised his team's never-say-die attitude Saturday, as they faced a team that has not lost at home since January 2014 and had just annihilated Alabama 80-48 last week.
"We really displayed a lot of heart and a lot of toughness here today."
"[It was] a hard-fought basketball game," Shaver said to Tribe Athletics. "Really proud of our competitive spirit. We really played hard in a tough environment. [It's a] sold-out arena here, or close to it, against a really fine basketball team … we really displayed a lot of heart and a lot of toughness here today."
The first half was characterized by poor shooting, as both teams shot below 40 percent. The difference came beyond the three point arc, as the College (3-1) knocked down five of 14 attempts from long range, while Dayton (4-0) only managed to hit one of eight. The Tribe defense was nothing short of excellent, forcing 10 turnovers and holding the high-powered Flyers offense, which averaged almost 87 points coming into the contest, to 21 points in the first 20 minutes.
The second half was a much different story, as Dayton began to hit the majority of their shot attempts and forced the College offense into making more mistakes. The Tribe turned the ball over eight times in the half, resulting in 16 points for the Flyers. After the game, Shaver commented on the need for better execution on offense.
"Our execution must improve," Shaver told Tribe Athletics. "We talk a lot about being an execution-driven team, not result-driven, and today we didn't take care of the little things in that second half …We did way too much one on one play, not trusting the offense, not trusting our teammates …The little things add up to big things that allow you to win basketball games."
"We're doing way too much one-on-one right now."
While seven Dayton players got at least two shot attempts in the second half, three players dominated the offense for the Tribe, taking 22 of the 28 shots: senior forward Terry Tarpey, and junior guards Daniel Dixon and Omar Prewitt. Dixon poured in 16 points on six of eight shots in the period, but Tarpey and Prewitt both struggled, each going two for seven from the floor. When the shots are not falling, the College's stars must be willing to share the ball with their teammates, something Shaver talked about after the defeat when asked about Dixon's strong shooting during the game.
"It was [a great performance]," Shaver said to Tribe Athletics. "But I think Daniel, like Omar, Terry … got to do a better job executing offensively. We're doing way too much one-on-one right now."
With 6:33 left to play, the Flyers flipped the script on the Tribe, having taken a nine-point lead. William and Mary did not back down, going on an 11-0 run to regain the lead 60-58 four minutes later. After both squads traded baskets, Dayton went on a 7-1 spurt to take a two-possession lead. Dixon nailed a three pointer with three seconds left, trimming the deficit down to one.
Dayton guard Charles Cooke, who had 18 points in the second half, was fouled and made the first free throw, then missed the second, but Flyer forward Kendall Pollard grabbed the offensive rebound with one second remaining, then hit one of two free throws. Prewitt grabbed the rebound, but it was too late, and Dayton celebrated a nail-biting 69-66 win.
William and Mary returns to Kaplan Arena Wednesday to take on the Hampton Pirates. Tip-off is scheduled for 7:30 p.m.