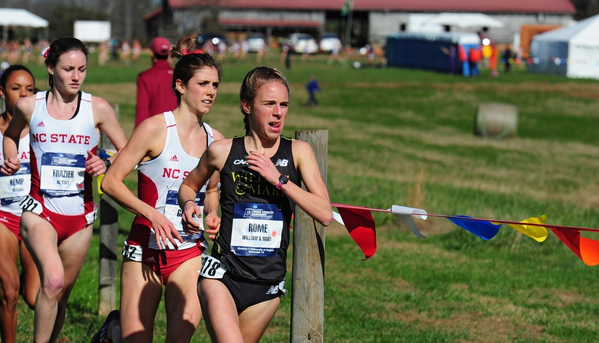 William and Mary's men's team delivered a strong performance Saturday at the Patriot Games in Fairfax, Va., finishing second behind George Mason. The Tribe women also had a solid outing at the Patriot Games Saturday, although three women competed at the Penn State National Invitational. Sophomore All-American Regan Rome starred in Pennsylvania, finishing fourth in the 3,000-meter run in a tough field, and setting her first school record with a time of 9:19.67.
In the weight throw, the College took first and second place with redshirt junior Taylor Frenia (17.98 m) and redshirt freshman Preston Richardson (16.28 m). Frenia also won first in the shot put event, and his distance of 17.44 m ranked second in school history, the best since 1978.  Richardson had a put of 15.77 m to finish in third place, and freshman Vlad Castillo, Jr. had a put of 14.57 m to finish fifth. The College was also strong in the pole vault event, landing finishers at first, third, and fourth. Redshirt junior Derek O'Connell vaulted over the bar at 5.05 m to win the event. Junior Lucas Wratschko (4.60 m) and redshirt junior Greg Gallagher (4.30 m) finished third and fourth, respectively.
The Tribe men also performed well in the running events at the Patriot Games. Sophomore Davion Hutt finished third in the 60-meter dash with an impressive time of 6.87 seconds. Sophomore Dawson Connell won the 1,000 meters with a time of 2:27.07, qualifying for the Intercollegiate Association of Amateur Athletes of America (IC4A) meet. Senior Ryan Gousse won the mile in 4:18.17 and redshirt sophomore Faris Sakallah finished second in the 3,000-meter run with a time of 8:31.59.
While Rome was setting a school record at the Penn State National Invitational, the rest of the Tribe women performed well in the Patriot Games. Sophomore Leia Mistowski set a school record in the weight throw with a throw of 17.15 meters. Redshirt junior Rochelle Evans finished second in the event with a throw of 16.03 meters. Evans also finished well in the shot put, winning the contest and qualifying for the Eastern Collegiate Athletic Conference (ECAC) Championship. Sophomore Jacqueline Meeks qualified for the same meet in the pole vault, as she cleared the bar at 3.70 meters.
Sophomore Kacey Wheeler qualified for the ECAC meet by running the 500 meters in 1:16.52 to finish third. Junior Molly Applegate won the mile with a time of 5:04.54.
The Tribe men and women are next in action Saturday, Feb. 6 when they participate in the Sykes and Sabock Challenge Cup at Penn State. Some Tribe stars will compete at Christopher Newport for the Vince Brown Invitational.