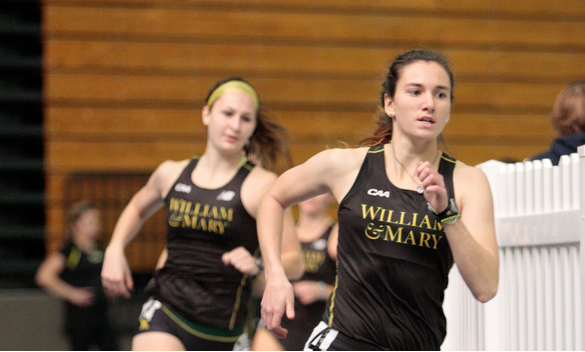 William and Mary attended the Sykes-Sabock Challenge Cup at Penn State Feb. 5-6. The meet featured 10 other teams, including several teams the Tribe can expect to face at the Colonial Athletic Association championships in May. Overall, the men's team finished fifth with 62 points for a No. 5 finish out of seven teams.
The Tribe women's team was busy this weekend, finishing seventh with 30 points out of eight teams at the Sykes-Sabock Challenge Cup and sending 13 runners to the Vince Brown Invitational on the Christopher Newport University campus. The team finished tied for first at CNU, racking up 86 points in the process.
The Sykes-Sabock meet began Friday, and the Tribe scored its first points through sophomore Davion Hutt's 60-meter dash run in 6.85 seconds. Hutt's effort earned him second in the event. William and Mary distance runners contributed as well. Sophomore Faris Sakallah brought home silver with a run of 14:46 in the men's 5000 meters. Sakallah's time was more than 10 seconds better than his previous personal best indoors.
Throwers on the men's and women's side pulled their own weight. Senior Brian Waterfield followed up with a school record-breaking throw of 21.89 meters, enough to win him silver in the 35-pound weight toss. Sophomore Leia Mistowski re-broke her own school record with a 20- pound weight toss of 17.56 meters. Her throw was enough to win her fifth place as well as ink her name as fourth all-time in the Tribe record books in the event.
William and Mary shot putters performed well Saturday. The men's team had two finish in the top five. Freshman Preston Richardson tossed a 16.29 meter throw, good enough for fifth place. Junior Taylor Frenia earned bronze with a 16.76 meter throw. On the women's side, junior Rochelle Evans stayed true to form with a 14.11 meter throw, giving her fifth place at the end of competition.
Staying on the field, junior Derek O'Connell almost equaled his personal best with a pole vault of 5.12 meters, seizing the bronze. This jump was just a shade off of his own record-setting 5.13 meter jump set in December 2015.
Runners on Saturday contributed to the point total as well. Sophomore Dawson Connell crushed his lifetime-best mile time by 16 seconds. Connell took first place with a mile time of 4:03.41. In the women's 3000-meter race, junior Molly Applegate finished fifth in 10:01.85. Applegate also beat her own lifetime best and now holds the third-best 3000-meter time on the team.
At CNU, the Tribe women had a successful day on the track. In the women's 400-meter dash, freshman Serena Hooker turned in a 1:03.04, good enough for a No.15 place out of 50 runners.
In the women's 800-meter race, William and Mary placed three in the top 15. Freshman Abbey Hillerich finished sixth in 2:29.94. Hillerich's time was good enough for her third best this season and third best on the team so far. Junior McCall Ledgett came in eighth with a time of 2:30.16, her best this season. Sophomore Ashley Anderson ran 2:35.00 to end in fourteenth place.
In the mile, the College finished with three runners in the top 20 out of 50. The three times recorded were all good enough to be in the top ten mile times run by Tribe milers this season. Senior Erica Amatori finished in 5:34.32 for the No. 16 spot. Freshman Ana Suarez followed Amatori at No. 17, finishing in 5:35.05. Carolyn Cunniffe ran 5:36.79 and crossed the line for the No. 20 position.
The Tribe had similar success in the 5000 meters, finishing with three in the top 11, and two in the top five. Sophomore Lindsay Myers finished second in 18:57.77. Senior Meghan Mulroy came fourth, running 19:07.76. Senior Ashley Bruce finished in 20:26.70 in the 11th place.
Finally, freshman Maggie Sullivan turned in her second best time of the year finishing fourth at the Invitational in 9.41.
William and Mary travels to Lynchburg, Va., for the Liberty Quad Feb. 11 and to Ames, Iowa for the Iowa State Classic Feb. 12.