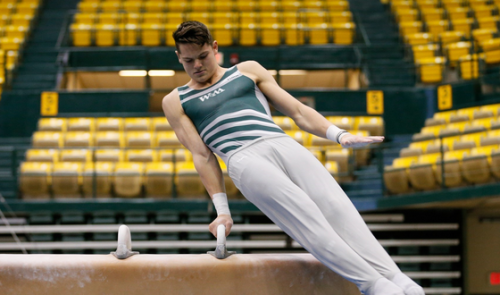 William and Mary gymnastics posted season-high scores on both the men's and women's sides over the weekend with road trips to the south. The women took third in the Sweetheart Invitational hosted by North Carolina while the men won the Peach Tree Invitational in Atlanta.
Competing at UNC-Chapel Hill against the Tar Heels and North Carolina State in the Sweetheart Invitational, the Tribe finished with its highest season score of 192.400, good for third place.
Freshman all-arounder  Aaliyah Kerr contributed to the College's season-best floor performance with a 9.850 and the individual win. Kerr improved on her personal best. William and Mary put up 48.700 points on the floor, making the Tribe winners of the event.
With second-place performances in all-around and on vault, senior Brittany Stover set new season-highs with 39.050 all-around and 9.850 on vault. The new team leader in both events, Stover continues strengthening her attempt to earn her third consecutive Eastern Collegiate Athletics Conference Athlete of the Year award.
Juniors Olivia O'Connor and Briana Gironda also set season-bests at the invitational. O'Connor set a new season-high on vault (9.850) and tied her season-highs on balance beam (9.675) and floor exercise (9.725). Gironda set a new season and career-high all-around.
On Saturday, the men's team travelled to Atlanta, Ga., to compete in the Peach Tree Invitational, facing Springfield and Illinois-Chicago. William and Mary brought home the gold with an overall score of 409.600, eking out a 0.45 victory over Springfield. Illinois-Chicago came in third with 399.000 points.
The 409.600 points scored by the Tribe marked a season-high and was accompanied by season-high marks in three events. The College saw improvement in floor exercise (71.200), pommel Horse (70.250), and parallel bars (67.650) while maintaining its marks on rings.
Sophomore Griffin Antle scored a meet-best 15.000 on pommel horse, setting season and career highs in the process. Senior Simon Casey tied his career best and hit a season-high with his 14.600 point floor exercise display.
Freshman Jack Hasenkompf reset his own career best on floor exercise, improving on his past score from 14.100 to 14.600. Hasenkompf also bettered his all-around performance score, improving from 77.15 to 78.600.
The men head to Annapolis, Md., to take on Navy Sunday, while the women take on George Washington with UNC and  New Hampshire in Washington, D.C., Friday.