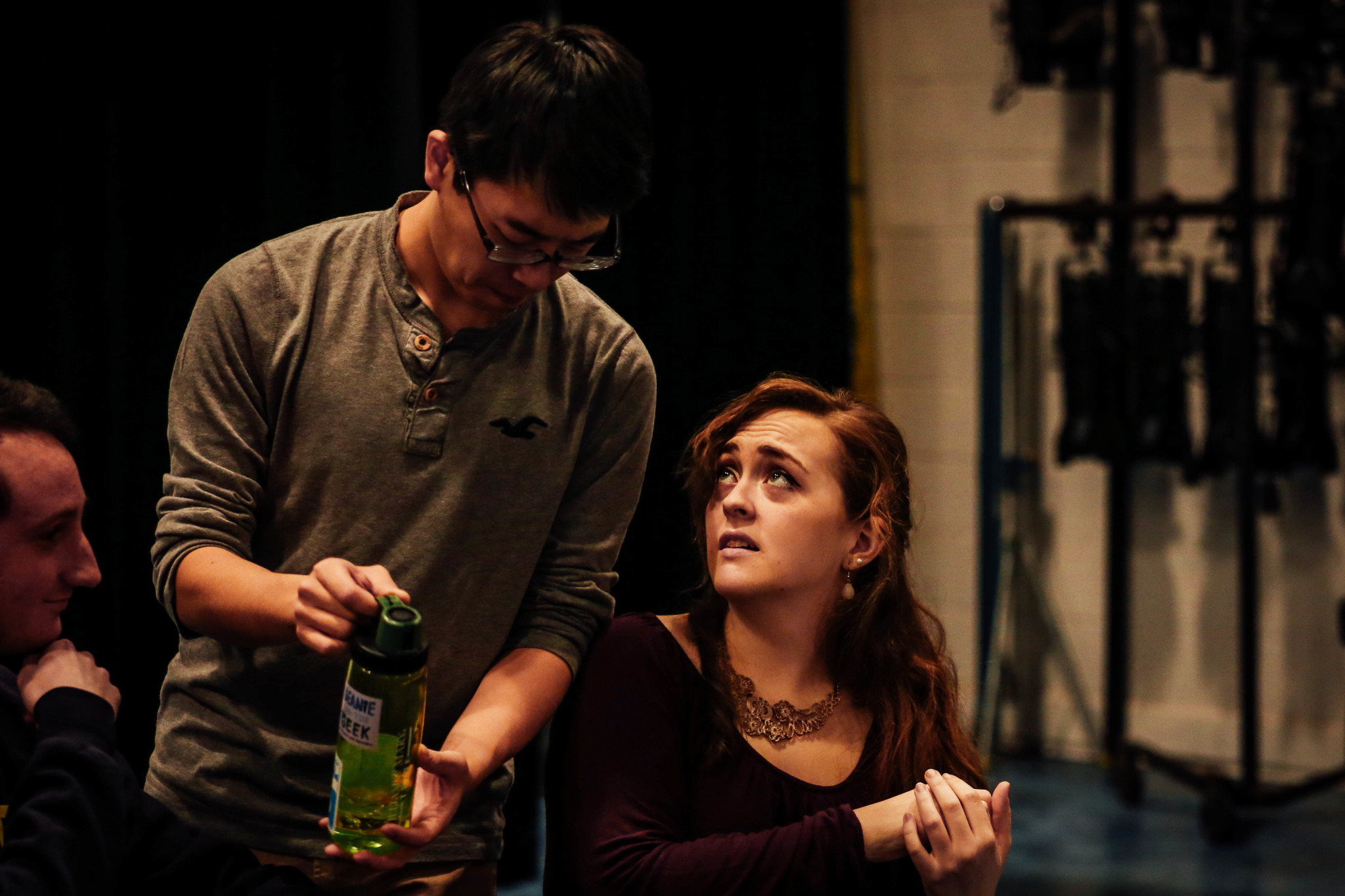 What do Skaldic poetry, a jar of pickles and bootlegged alcohol have in common? All three were part of the 2016 Premiere Theatre Festival. This festival, comprised of five student-written and student-directed plays, took place in Phi Beta Kappa's Memorial Hall on Feb. 29 and March, 1, 2 and 3.
Most of the plays in the festival originated as an assignment for a playwriting class. While some of the writers had experience with comedy groups on campus, almost none had prior experience writing, acting or directing.
The five plays chosen for the festival were Kingsong, Our Lovely Contestants, The Script, Rotgut and The Pickle Jar.
The Pickle Jar, written by Lydia House '16, explored a strong group of characters that the plot rested on.
"I have never written something before and it was really exciting to go through that process, and to take my interest in comedy and learn to do that in a different medium was a valuable experience," House said. "We were given all of these hints on how to write, and what I learned was to have strong characters and the play will write itself. Once you figure out what your characters want, comedy comes from the well-defined characters who act predictably, who have really defined wants and you can see them think."
House started writing her play with the concept of a group of students who wanted to rob a bank, but gradually changed it to a small heist in a small town to focus on the humor. A group of friends steal an infamous jar of pickles and turn to a life of crime.
Another show, written by Emily Draper '16 featured three sisters competing on a game show. Draper also wrote the show as part of her playwriting class.
"My play is a comedic drama," Draper said. "It is about three sisters who enter a game show together and they work out their baggage, since they are adults with an ailing father. I got great feedback from my professor and then it was selected by the literary organizer of the festival and it was assigned a director."
Literary organizer Jonah Fishel '16 was responsible for selecting and organizing the works in the festival. He also had a play in the festival called Kingsong.
Fishel's play was based off of experience he had from "Verse Play," a course he took last semester that explored Norse Viking battles and the devotion between a father and son.
"The course was about modern plays written in verse and writing one of our own," Fishel said in an email. "We read 'Under Milk Wood' in class and I loved the sound of it, how physical and visceral it was when read out loud. I decided I wanted to write a play that did something similar. I ended up settling on an approximating of a skaldic verse form because I liked the length of the lines and how evocative the poems I read were. I made it about the Vikings, because what else would I write a skaldic verse about. It took some getting used to, but once I got used to writing in the verse I wrote it in about a week."
Fishel's play was more serious and dramatic, while Draper and House aimed for plays that incorporated drama and comedy.
The actors brought elements to the characters that I hadn't foreseen, they breathed life into the characters.
The Script, directed by Bruno Del Alamo '16, focused on making a joke out of the assignment. He explored concepts such as atheism and breaking the fourth wall.
"It was supposed to be kind of a joke, because we write these things for playwriting," Del Alamo said. "I wanted to write something that fulfilled the core requirements. There had to be conflicts, so I made sure that there were conflicts like every 24 seconds. The whole play has conflicts. While the assignment was supposed to focus on linear plotlines, I really wanted to write something that ignored that. Mine is all about trying to break the fourth wall."
As other students directed the shows, many of the writers found the experience of getting to see their worked performed odd. However, this is also what many felt was one of the most rewarding experiences of the process. The writers, for the most part, took the role of explaining who the characters were and helping the actors understand some of the comedic lines.
"It didn't occur to me that other people would be seeing it," House said. "Rehearsals were really funny and the audience laughed at about half of the jokes. The actors brought elements to the characters that I hadn't foreseen, they breathed life into the characters. It was cool to see how they would make it personal."
For Fishel, this experience was also one of the most rewarding aspects of being involved in the festival. He enjoyed getting to see his work on stage and how it developed.
"The best part of the experience for me was sitting down opening night without ever seeing the play run all the way through," Fishel said in an email. "I wanted to be surprised and I really was. The actors did a fantastic job. I got to see something that I wrote brought to life on the stage through the efforts of some very skilled and dedicated people, and that is something I value a lot."