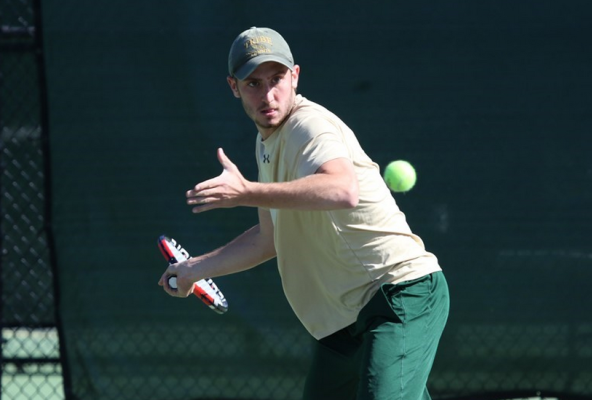 No. 32 William and Mary women had a slow start to their weekend, losing 4-3 to Houston Friday at the Millie West Tennis Facility in Williamsburg, Va. However, the Tribe recovered on senior day to dominate Montana, winning 6-1. The No. 62 men did not have the weekend they were looking for, falling at Elon 5-2 in their first Colonial Athletic Association match.
On Friday, the College (14-6, 1-0 CAA) struggled at the top of the singles lineup. Top seeded senior Elizaveta Nemchinov lost to Houston's Despoina Vogasari 6-4, 3-6, 4-6. Junior Marie Faure, who competed at the No. 2 singles spot, couldn't compete with Mina Markovic of the Cougars (5-16, 0-7 American), losing 1-6, 1-6. At No. 3 singles, freshman Lauren Goodman delivered a strong performance, topping Rocio Martin 6-1, 7-6 (4), her fifth-straight win at the No. 3 position.
The Tribe fell in both doubles matches against Houston, as Nemchinov and Faure fell 2-6 against Vogasari and Martin. Goodman and sophomore Maria Groener lost to Rupert and Markovic, 4-6. The loss to the Cougars was surprising for the Tribe, as Houston is unranked and improved to just 5-15 on the season with the win.
The Tribe recovered from their underwhelming performance against the Cougars, defeating Montana (3-11, 2-2 Big Sky) Saturday. As seniors Nemchinov, Julia Casselbury and Jackie Lee were honored on senior day, the College picked up the victory by winning all doubles matches and all but one singles match.
Nemchinov was in dominant form at No. 1 singles, winning 6-0, 6-0 over the Grizzlies' Francis Dean. At No. 2 singles, Faure handled business against Lidia Dukic, winning 6-3, 6-1. At No. 3, Casselbury also coasted to an easy victory, topping Hannah Sulz 6-2, 6-3. In an attempt to move up to the No. 4 position, sophomore Olivia Thaler played a long, tough match and ultimately picked up the win against Cam Kincaid, 6-7, 6-2, 10-6.
Faure and Goodman dominated in the top doubles match, winning 6-1. Casselbury teamed with Nemchinov to win 6-4 at No. 2 doubles, and Groener and Lee pulled out a narrow win of 7-6 (5) in the final doubles spot.
On the men's side, the Tribe (12-6, 0-1) did not have the strength to match the Phoenix (14-4, 2-0). At No. 1 singles, sophomore Christian Cargill could not quite keep up with Felipe Sarrasague, losing 6-7 (4), 1-6. The Tribe fared no better at the No. 2 position, with junior Addison Appleby losing 1-6, 1-6 against Mario Paccini. Sophomore Alec Miller won by the narrowest of margins at No. 3 singles, defeating Robert Lindgreen, 6-3, 3-6, 5-5, retired. At the No. 6 singles spot, sophomore Damon Niquet defeated Felipe Osses-Konig 7-6 (0), 6-4.
In the doubles matches, the College was simply outmatched. Redshirt sophomore Ryan Newman and Miller fell 1-6 at the top position. At No. 2 doubles, Cargill and senior Scott Huang also fell 1-6. The College did pull out a narrow win at No. 3 doubles, with sophomore Lars de Boer and Niquet winning 7-6 (6).
The Tribe men will continue their six game road trip, facing VCU this Wednesday, while the women will conclude the regular season on the road next Saturday, facing Old Dominion in Norfolk, Va.