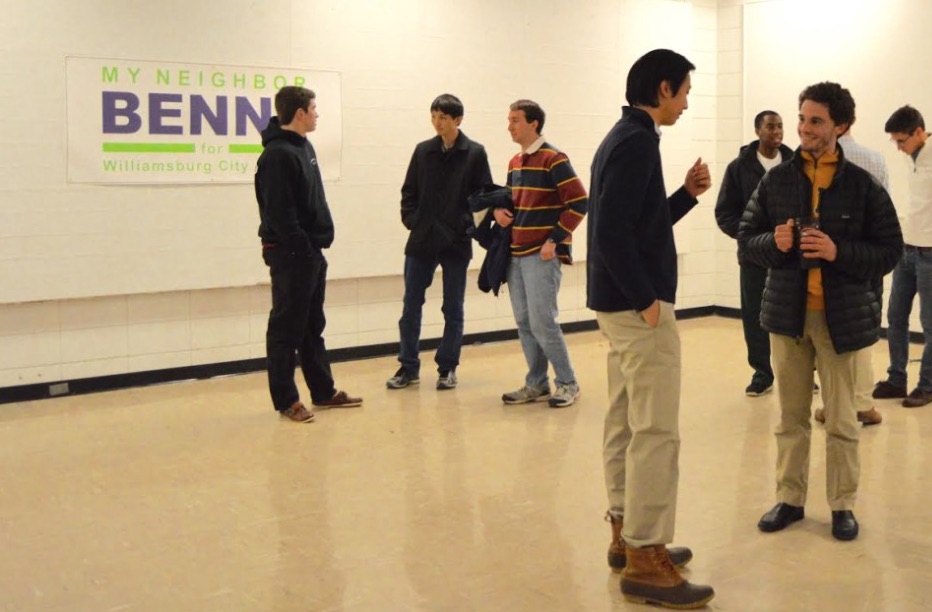 At the strong risk of being an oldster telling youngsters about how hard it was back in the day, I write to this editorial board and readers of this paper to urge support for Benny Zhang's bid for Williamsburg City Council.
Benny's election next month would represent the culmination of ten years of efforts to build a better Williamsburg.  In the 2006 elections, before they successfully sued for the right to, students weren't even allowed to vote in Williamsburg. After Councilman Scott Foster, Zhang would be the second enrolled William & Mary student elected to Council in history.
Councilman Foster, still serving and now a young local attorney, can not go it alone. But more importantly, Zhang's election would signify that electing W&M students is something that is normal.Failure to elect Zhang could represent turning the clock back on years of progress.The three-person rule. Evictions. Noise violations. Density caps.  If these phrases seem unfamiliar or even foreign to you, that's a sign of the work that Councilman Scott Foster, Mayor Clyde Haulman, progressive residents, student leaders, and President Reveley have done on your behalf since 2010.
Four years before I lived there, the house I lived in as a senior – 711 Richmond Road – was evicted and its residents sued for allegedly violating an obscene, outdated, and openly discriminatory law, the three-person rule, which bars more than three unrelated people from living in a house in Williamsburg, even a 5000 square foot former bed and breakfast like 711.
For your consideration, from The Flat Hat in 2009: "The city's lawsuit against the residents of 711 Richmond Rd. has developed into a flash point for local politics at the College of William and Mary, and it now appears a city official suggested that neighbors monitor student vehicles to determine whether the students were violating the three-person rule."
"The letter also names SA President Valerie Hopkins '09 as a resident of 206 Nelson Ave., and says that the complainant believes that the residents noticed the methods of investigation and changed their parking habits to avoid being caught in violation of the law… Several SA members are gathering evidence to pursue a possible criminal case against [a] music professor… who they allege made the complaint against the residents at 711 Richmond Rd. They also allege [the music professor] pursued a similar case against the residents of 206 Nelson Ave."
These cases were hardly unique or uncommon, but those paragraphs read like a dispatch from a completely different town than the Williamsburg of today.  It was, simply, no way for members of a community to behave toward one another. It's why I signed up as a freshman to help elect Scott Foster '10 to City Council in an inspiring landslide.  It's not about backing students over traditional residents.  Plenty of residents supported Foster's bid, and — tellingly — even more helped re-elect him in 2014.It's about the way colleagues, students, and professors should treat each other.  As neighbors. As friends.  It's the Williamsburg this Council has helped build in the last six years.  And it should not be put at risk.The retirements of Mayor Haulman and Councilwoman Judy Knudson create an urgent need for leadership.
Benming Zhang '16 is more ready than Scott Foster, who has been exceptional, was to serve on Council from day one. Zhang has been involved with the student government and his fraternity, formed a resident issues political action committee, and served on a local government board, the Public Housing Advisory Committee.He is prepared and able to be an advocate for all, and I urge you in the strongest of terms to make your way to the polls for him in May. I also recommend that you vote for current Vice Mayor Paul Freiling '83, who has been a vocal, strong champion for students and a cohesive Williamsburg.
Contact Curt Mills '13 at cmills@washingtonexaminer.com
This writer was President of the Student Assembly from 2012-2013, and is now a reporter in Washington, D.C.